Messages

10
Reaction score

16
This is one of very few period correct racing CSL Batmobile replicas in this country. Mechanically the car was in excellent shape with a European M6 sourced M88/3 24 valve race prepared engine with a Metric Mechanic prepared head with shimless buckets, Rally Intake Cam, and forged high-compression pistons which had been recently rebuilt by the original owner.
My son has installed a modern Life Racing engine computer, wasted spark ignition, modern Siemens Deka fuel injectors and a Cosworth Omega data display and Stack ST400 tachmeter for track use, as well as building a System 25 sealed engine wire harness for the car. The chassis harness uses a Mclaren Electronics Solid State relay box for all Engine power electronics and a Bussman Relay Box for Chassis duties. Engine calibration has been performed by Franz Diebold from Winchester, VA.
He has also fabricated a custom stainless twin pipe side exhaust system replicating the system in the 1975 Sebring winning factory prepared BMW 3.0 CSL models, which provides the sound unique to these competition models. The car already had the desirable Euro long tube exhaust manifold. The transmission used is a Getrag 265 (which enables plenty of upgrade paths to close ratio gearsets in the future), a triple plate Tilton clutch, AKG works type shifter adapted from an E30 and a plated LSD (75% lock) unit in the OEM E9 differential housing.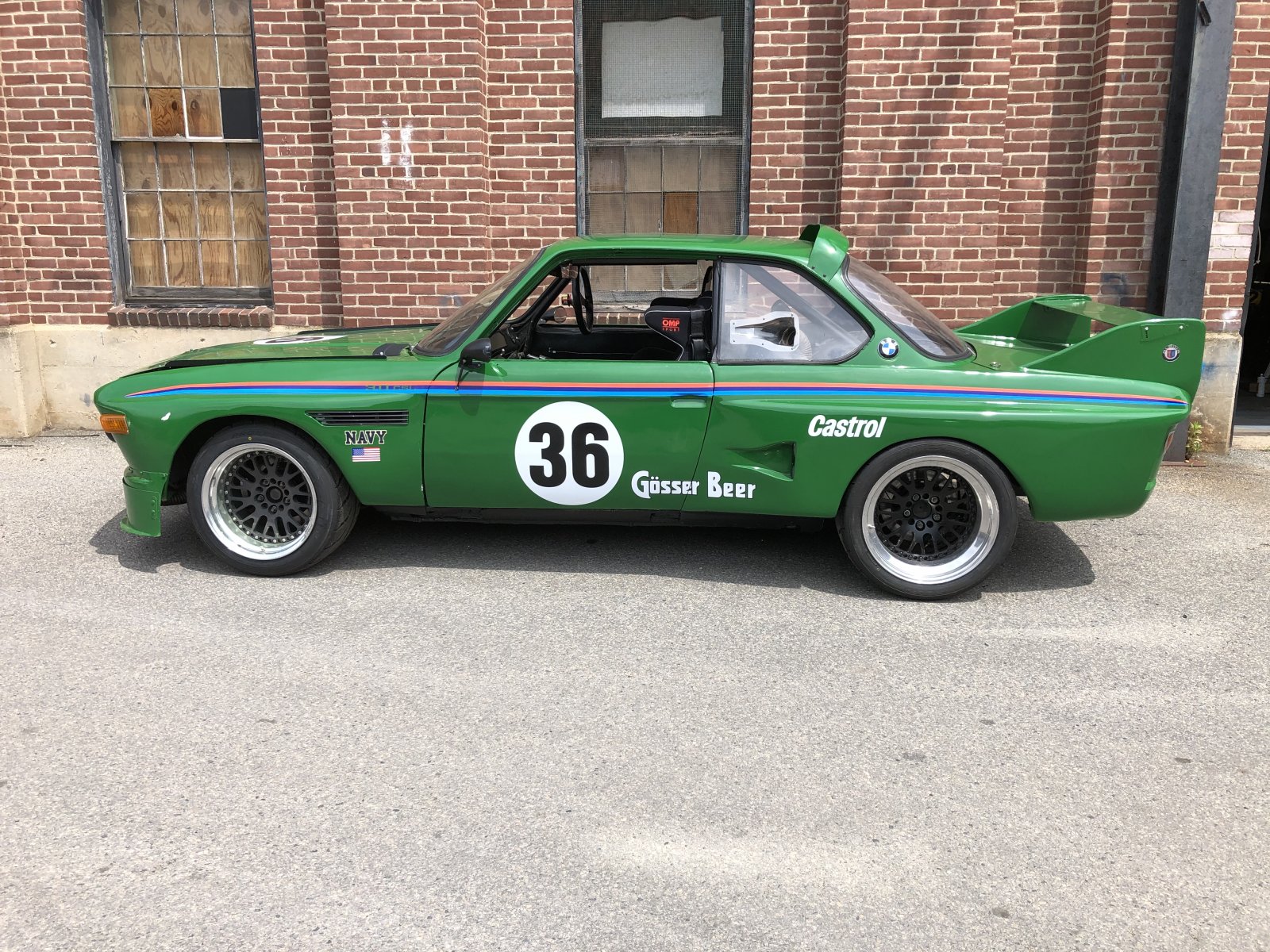 When I purchased the car in Florida, it was immediately apparent that the paint and decals were 15 years old and very tired, but the body was totally rust free and had an excellent roll cage. I have repainted the car dark green to replicate the unique 1977 Gosser Beer BMW Alpina CSL race car with appropriate Alpina decals. The car has CCW two piece wheels, 10.5 x 17 in front and 12.5 x 18 in the rear. I have fitted Toyo R888R race tires for track use at Watkins Glen and Lime Rock. I have also installed an OMP full containment race seat and a Schroth six point harness, as well as a new fire suppression system and Fuel Safe fuel cell. The car already had a well designed fuel system with lift pump, surge tank and Bosch 044 high pressure system. We have posted a dyno video on UTUBE under the BMW Alpina Gosser Beer heading. The
exhaust sound is impressive. We just returned from two days at Watkins Glen and my son has posted a 7 minute video on Utube under the BMW Gosser Beer CSL heading.
My first BMW was an 1800 TI purchased in Munich in 1965, and I have also owned four 535 models and a 635 over the years. My current 1987 535is has a 745i K27 Turbo installed by my son with a custom Lehmann design twin plenum intake manifold, a VAC prepared head, and Ireland Engineering cam with Ross forged pistons.
Owning a race prepared CSL has been a long term goal since I saw them win the Sebring 12 hour race in 1975, and the purchase of this CSL tribute car is more than I could have hoped for. With 270 rear wheel HP and a curb weight of 2500 pounds, modern Wilwood disc brakes, and Bilstein shocks, this car performs as well as the historic 1975 Group 4 factory prepared BMW CSL models did in the USA IMSA series. It is a joy to drive at Watkins Glen and Lime Rock, which I anticipate doing for many more years. The car will never be sold, but will be passed on to my son someday.
Last edited: