Messages

244
Reaction score

156
Location
So as part of the total restoration that my '77 3.0Si requires, a full engine rebuild is definitely a necessity. As it happens, I'm in touch with the son of the gentleman who owned the car from 1980 to 1998, and he has provided me with a wealth of historical information about the car which has proven to be invaluable. One such detail is that fact that the car received a factory remanufactured engine at some time in the late 1980s, due to a failed thermostat cooking the original motor. It turned out that BMW UK had one last reman engine left, and it was cheaper to purchase this than carrying out a rebuild. Discovering this started me thinking; normally I'm very anal about originality and the importance of preservation, but knowing that the car doesn't have its original engine means that it's a bit of a blank canvas. So I started to think about what alternatives I might have beyond rebuilding the current engine to standard specification. I considered an M60B40 V8, an M70 V12 (briefly), an M88, and of course an M30B34 or 35. All of the above felt like a step too far though; whilst I'm not averse to a bit of modification, I really like clever modifications that look totally standard. Hence why I arrived at the idea of fitting an M90. They look identical to the original L Jet equipped M30 that's already in there, as well as being a proper BMW Motorsport engine. The trouble was going to be finding one however. After months of searching, this popped up......
It was originally fitted to a UK spec right hand drive E12 M535i built in March 1981, therefore the preferred iteration. I started to do a little more research in to how to optimise this engine, given that it's going to get a full rebuild anyway, and realised that building a stroker M90 is the way I want to go. It occurred to me that an 86mm crank from an M30B32 or B34/35 would be a good way to do this. Then this appeared:
It's the bottom end from an April 1981 E23 732i, so has the 86mm crank as opposed to the M90's 84mm item. If my sums are correct, then we're looking at an increase in capacity from 3453cc to 3535cc. I'll need to do some more research on safe limits of boring on the M90 block, but even increasing bore from 93.4mm to 93.5mm will see a capacity increase to 3543cc. It seems that 94mm is the maximum recommended overbore, so that would see a capacity of 3581cc.
I'm now really curious about what we'll see in terms of power increase, but more importantly torque. I think the combination of a Schrick cam (spec TBC), the 86mm crank, bigger intake runners and a few other tricks will see some interesting results. On the subject of the runners, I have discovered that 2002tii items are identical to E21 320i items, without the additional webs cast in to the inner curvature (therefore looking a bit neater). For comparison, you can see the sheer size difference between them in the pic below. On the left is the 320i part, in the middle is the 2002tii part and on the right is the diminutive L Jet M30 part: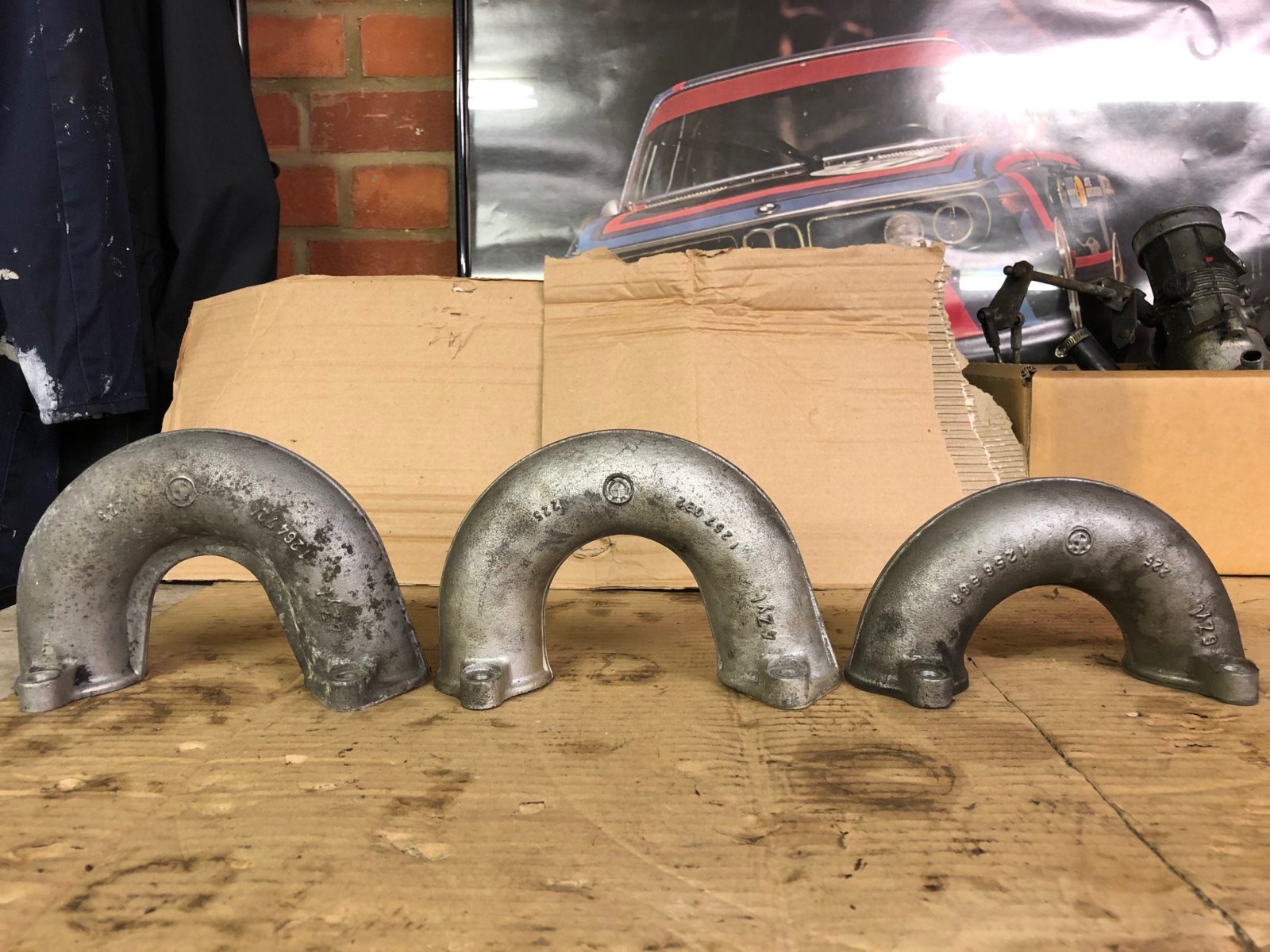 So now I need to turn my attention to researching camshafts, cylinder heads and engine management.....