Well-Known Member
Site Donor $
Messages

1,818
Reaction score

1,241
Location
Hi all,
NMNA. Don't see these too often.
Enjoy (or not)
Keshav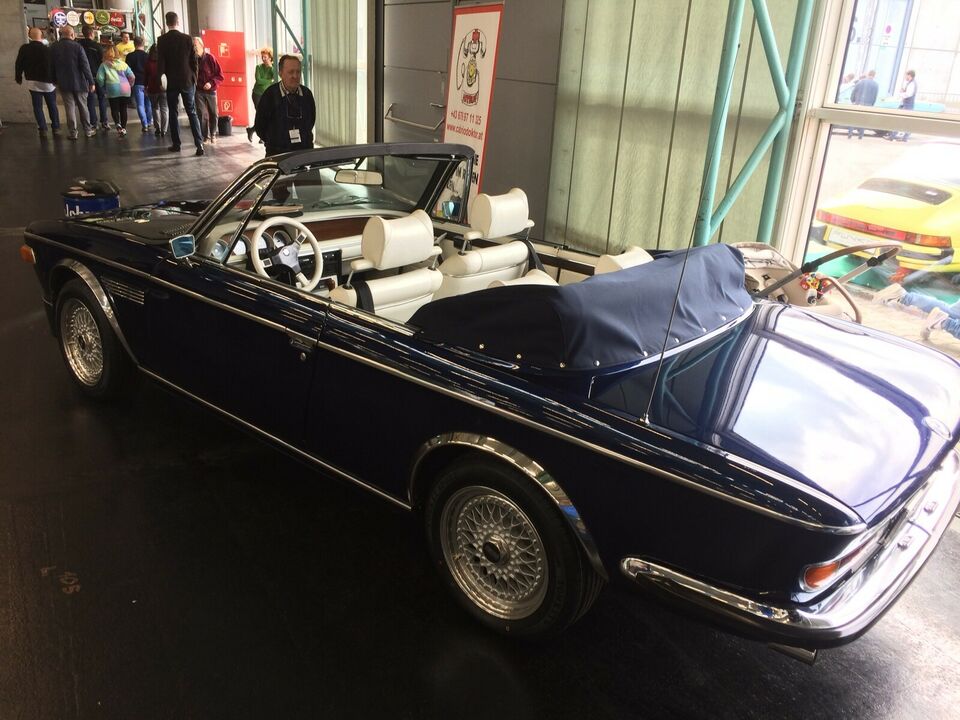 ich verkaufe ein historisches Einzelstück, absolut einzigartig, selten, rar BMW 2800 cs in...,Historisches Einzelstück BMW E9 cabrio 2800 cs in Regensburg - Regensburg
www.ebay-kleinanzeigen.de
Google translate
I am selling a unique historical piece, absolutely unique, rare, rare
BMW 2800 cs in mauritius blue metallic (287 color code BMW) with white leather interior original BMW
complete and great history!
delivered to Austria in 1969
first approved on January 12, 1970
then in first ownership until 1995
This historical one-off was then made by one of the most renowned fashion tsars in Vienna and Austria, the very honored Mr. Karl Vitaly jun. (Tlapa fashion house) with about 60,000 euros (about 825,600 schillings) in expenditure and costs at the request of his wife at BMW Werkstatt 21 as a convertible rebuilt and provided with complete restoration (!) ff. by Prof. Dr. Zeibig historically examined and individually approved by the state of Lower Austria - complete body frame off restored and ff. Completely preserved.
The well-known subsequent owner bought the car in 2002 and gave it a lot of love, care and dedication.
Afterwards ff. The complete interior was restored by the subsequent owner and one of the most renowned classic car collectors in Carinthia and replaced with this striking white, original (!) And thus historic BMW leather interior.
At that time, the complete white leather interior cost 120,000 schillings, the equivalent of just under 7,200 euros this year.
You can also see that this dream convertible has spared no expense or effort to prepare it the way it is now in this elegant design.
A unique and dreamlike color combination !! mauritius blue metallic white, simply an ingenious BMW composition!
The mileage read is absolutely traceable and verifiable.
All matching numbers!
The entire technology works flawlessly, a new Sonnenland convertible top in blue-black was installed in 2019 with optimization and overhaul of the frame and fits perfectly to the interior and the color nuance, the rear window shimmers slightly green and adapts to the shape and design of the dream convertible.
Also very important: the pickerl (unique Austrian word for TÜV approval stickers) is new and done without defects in 2019,
With these great first-class papers (individual acceptance, history, expert reports, receipts and historical documents including finished, everyday use approval), the beautiful convertible can be registered in Germany and worldwide immediately!
This unique convertible is registered, not deregistered.
Install signs - get in - dream and drive off with this unique BMW convertible feeling of uniqueness .....
Engine and transmission have been restored from scratch, battery, starter new,
Both axes have been restored and preserved.
In 2019, the trunk, engine compartment, brake system and underbody were also restored and then all cavities and underbody were preserved with "Mc Sanders" wax, all lubricants, filters, candles, liquids, etc. were replaced
Newly prepared, historic BBS rims RS 008 with 7 J 16 H2 ET 24 and new tires fitted with 25 mm plates, but at the request of the buyer, new 14/16 "original and restored ALPINA rims can also be fitted with new tires!