Well-Known Member
Site Donor $
Site Donor $$
Messages

2,203
Reaction score

557
Location
Trying to put my car back together and I am stumbling on two items under the dash, driver side.
First, what is this thing and where does it go?
And second, what is the proper assembly for the rig that keeps the door under the fuses from falling off? Is there another black plastic ring that goes on there?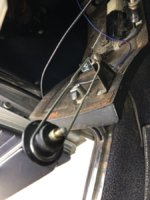 Thank you.