Well-Known Member
Site Donor $
Messages

10,028
Reaction score

2,113
Location
Received my 123ignition distributor today. I bought the tuneable version which allows you to program any mechanical and vacuum curve you want and adjust it on the fly (think dyno) from a laptop. I think it is worth the extra $26 for the tuneable version so you don't have to limit yourself to the preprogrammed curves, especially if you have made engine changes (webers etc.) and dealing with today's crappy fuel.
I bought it from 123ignitionusa.com on Saturday and took 2 days to get here-quick-which is good because I am impatient lol. The build quality appears very good and in my research online I'd say it gets 99% positive reviews. So on to the e9 install.
I put my engine at TDC and had the old dist. out already, here is what it the 123 looks like (comes with new rotor and cap):
The round area to the left of the wires is the USB port. Here it is mounted with the rotor pointing in the area of #1 cylinder. I also replaced the shaft o-ring (which didn't look like it fit very well) with an oem one I had in the parts bin. Installed:
USB cable and I shrink-tubed the wires:
Computer interface dashboard. Temp, RPM, Advance, Vacuum/Boost, coil current (what does this tell me?):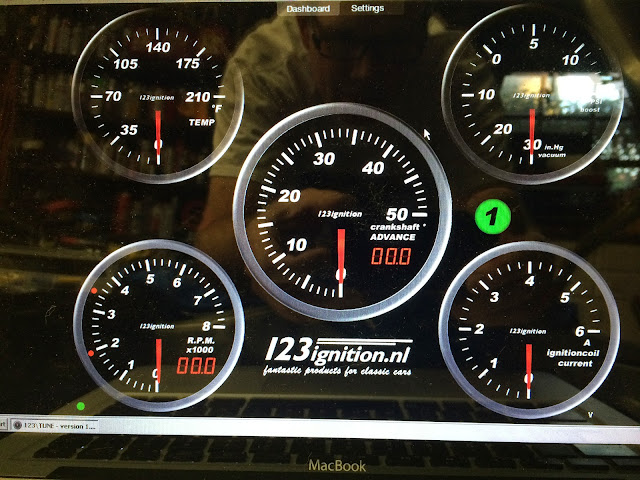 Curve graphs, these can be designed, saved, exported and tweaked. The rev limit can also be set here, I did 6400rpm:
As a starter I based mine on having manifold vacuum increase advance at idle, drop off as throttle opens under acceleration, then mechanical is there to do its job, I have it all in at 3500 rpm at 32 degrees but I will likely lower this to 3000 rpm but need something to start with.
I made a spreadsheet to help set up curves, it has the Blue Book one, mechanical, vacuum, then plotted for total advance and comparison, then imported into the tune software:
Here's how it looks on the car. Me likey: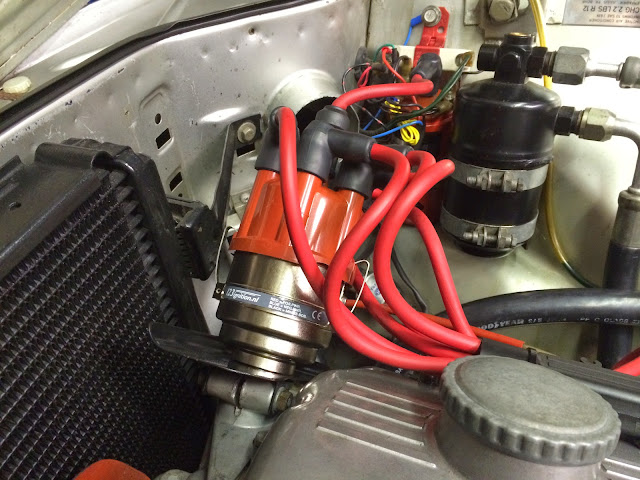 There are 4 wires to hook up, red to 12v at the coil (I did it before the ballast resistor, black to neg coil, blue to ground (ballast bolt), and yellow which can be connected to a switch to toggle between 2 stored curves (haven't fooled with this yet).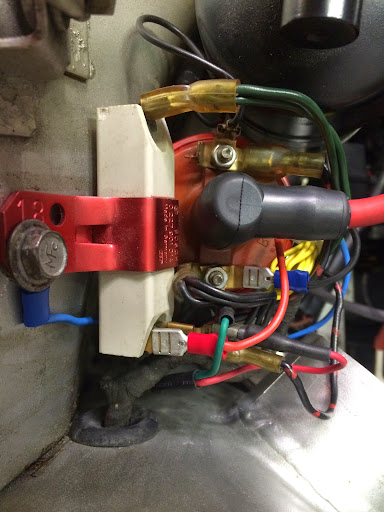 There are some things to do to set it's starting point (all in the cryptic instructions) before hooking it all up and firing it up which I then did. Did not start. Checked and rechecked over everything and decided to give it a bunch of manual advance and then it started right up.
Right away I could tell it idled smoother. No doubt. I let it warm up, used a strobe to set the all in timing amount to match the software (I guess this correlates the two). Here is what it looks like running:
I then checked mixtures on each barrel since the timing has changed and then played with the software a little, I need to redo some of the curves based on the amount of vacuum my Webers pull etc. but you can adjust advance and retard with the keyboard as well as change the curves. Very cool stuff. They claim that it has the ability to detect each cylinder's firing strength based on rotational variances and adjust accordingly for max power.
I have yet to take it on the road but already I can tell the engine is happier - I have never seen my engine idle as smoothly as this, with hardly any hood shake at the top (my benchmark). I still have a small random miss now and again but that is likely fuel or vacuum leak related.
Am looking forward to test driving it. More to follow as I tweak and settle on the right curves. And give the final opinion on if it's worth the $$$.
Last edited: