Well-Known Member
Site Donor $
Messages

440
Reaction score

338
Location
We had our first race of the year last weekend at the HMSA Spring Event at Laguna Seca.
It was my first chance to drive one of the pair of 2002's I got in trade for the Jagermeister CSL. These 2002's are pretty well known, and have excellent pedigree's. The #34 has verified Trans-Am history. The #35 has excellent period history.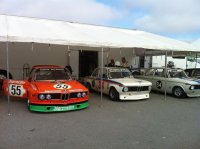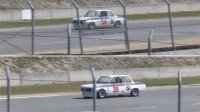 I drove the #34 car, and Terry Forland drove the #35. We raced in Group 3, which had 29 very fast, and very well prepared B sedans- Datsuns, Alfas, and 2002's.
I did not fit the car well, and we didn't have time to make the extensive changes that will be needed to help me fit. The pedals were a particular problem and I was unable to heel-and-toe on downshifts. You'll see my problems in the video.
Here's the full story:
www.msportvintage.com
And here's the link to the video:
http://youtu.be/mb3Lwdyd6bw