Well-Known Member
Site Donor $$
Messages

2,701
Reaction score

1,612
Location
As I get further into my restoration, I continue to learn not only about my car but also the resources available to me/us. With a recent discovery and communication fresh in my mind, I thought it would be worthwhile to share what I've experienced with Walloth Nesch.
I'll admit, this is going to sum us as a disappointment in their products, although that is not really my intent. I have come to find WN a wonderful resource for us as we maintain, care for and restore our cars. I have far more good stories than bad. But this post address two shortcomings that I'd like to make folks aware of. One has already been discussed. The other may be new information. And they both have to do with sheet metal.
REAR FLOOR PATCH PANELS
As outlined in detail in the past by
@eriknetherlands
I have confirmed that the rear floor panel pieces do not align well with the stiffener ribs in the existing floor. This is not an easy fix to flatten and shift these ribs, though I am currently contemplating a couple of different solutions. Anyway, I happened to write WN to share this info and I found their response interesting. They basically said that the ribs are in different locations depending on the year of the car. I honestly don't know if this is true, but find it hard to believe that BMW created different floor panel geometry year-to-year for a car that basically remained consistent. Perhaps from '73 to '74, along with some other chassis upgrades? I'd be interested to learn if anyone else has information about this (or measurements from various years of production of these ribs. If this is true, at the very least WN should provide this information on the website as one is contemplating ordering these panels.
REAR WHEEL ARCH PATCH PANELS
This one bugs me. My rear wheel arches have been fussed with, and I plan on patching in new wheel arches. WN makes/sells these and they look good in concept. The overall fitment seems good as I've test fitted thus far. But there are differences between the Left and Right panels I have. Specifically, the flatter section of the patch (the area above the wheel arch/lip) on one side has wrinkled pretty significantly. I chalk this up to the metal deforming/wrinkling when it was stamped. Since the other side looks good (no wrinkles) I wondered if I just had a bad part. But when I contacted WN they told me that they don't have perfect ones for the bad side. Essentially, they know that the parts are wrinkled, but that is what they have and that is what you are going to get? Here again, perhaps a note on the part description that the patch metal above the lip itself may be deformed. At least there would be transparency.
Pictures attached of the wheel arch.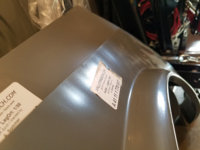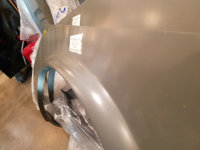 Again, this is not too much of a rip on WN. I will no doubt order thousands more dollars of parts from them. But I hope this alerts others about what you might get when ordering sheet metal from WN.
On the good side, I ordered the entire rear panel (trunk lid to lower valence, left to right fender/quarter) and it was an original BMW replacement part. That has happened a few times, in fact. I am very pleased with that.
I look forward to learning of others' experiences and info.
Stephen