Messages

81
Reaction score

1
Location
I have a bit of a dilemma. I recently bought a 73 3.0 CS with the intention of mod/tuning the car, but it turns out its a 35K original miles car in amazing stock condition.
Pics link here:
https://picasaweb.google.com/117214375058399711491/1973BMW30CS02?authuser=0&feat=directlink
Link to my introduction, car purchase here:
http://www.e9coupe.com/forum/showthread.php?t=12297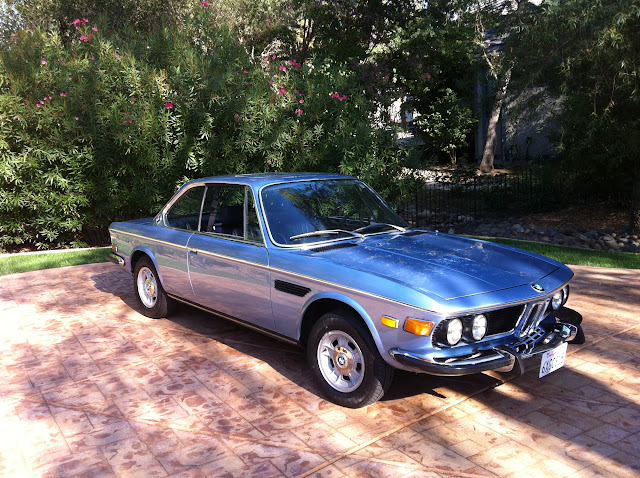 The pictures speak for themselves but just an FYI as to the condition - the clock and Blaupunkt stereo work perfectly. She is not concourse, but without a doubt show worthy. Please post questions here and I'll answer the best I can, take additional pics, etc. I've had it professionally inspected as well as looked over by an "e9 forum guy" and although I believe some work has been done to the car over the years, no accidents or any thing like that, nothing appears contrary to the speedometer or maintenance logs.
I'm not 100% sold on selling it because it's so nice, but I also would hate to alter this car or drive it in the rain...I plan on using my car almost daily. That said, I am open to selling the car, so send me offers. I'm going to give it a couple of weeks, and if no takers at a fair price then I'm going to move forward with my plans to modify it and drive it in the rain...without guilt. I may put on eBay, but thought I'd give the forum first shot. If you wanna save her, as-is, then spread the word.
Please note I'm open to trading her as well. Essentially, I'm open to anything that makes as long as it's fair to everyone involved.
Shawn
============= UPDATE =====================
Things done before my 1000 mile no-issues road trip:
- Re-Cored radiator, full flush
- Bilsteins shocks x4
- Brakes x4, new front vented rotors
Things I've done:
- Carbs - adjusted
- Replaced spark plugs and converted to electronic ignition, kept points in case someone wants them for any strange reason
- Brake light - fixed
- Replaced side mirror with new one
- Fixed Horn - Relay replaced
Things I'm planning to do:
- Charge A/C
- Starter, works but solenoid is going. Planning to put in a '90 E24 starter.
- Fasten seat belts light no worky.
Things to be done (account for in cost of car):
- Tie rods/radius arm bushing/align - $500
- Minor paint chips - $1000 - personally I wouldn't touch it, original vs.restore argument.
- Minor leaks/seepage, nothing left on garage floor - $1000 (generous amount)
- Some rubber is getting old, engine cowl, side markers, door seals, etc. - $500
- Foam inside hood could be replaced, but it's there but not perfect. See pic for details.
- Tool box - $400 - could use replacing, it's there but cracked. I have tools although not sure if all of them. I'm not an expert and I really don't care about the toolbox or tools. See pic for details.
- Misc little things I'm forgetting - $500 if the pursuit is perfection.
Other than that everything works and is in excellent condition...small list for a 40 year old car...yes its really that nice. You can tell by the bumper rubber, dash and what not that this car has been garaged it's entire life.
Lastly took more pics of the maintenance records so you can see the mileage history I have on the car. The previous owner said he'd write me a letter on the missing history, but since he's now in the UK, communication has been difficult. Hopefully, he's just busy with unpacking, new job position, etc. and not blowing me off. I'll keep trying. Worst case scenario I can write up what he told me, reference what he put in emails, and put into a formal letter.
Last edited: