Messages

237
Reaction score

149
Location
So after 10 years of ownership (and about 10k very happy miles) I have finally decided to commit to the full restoration that my E3 has really needed. When I bought it, I was immediately struck by the fact that it was in mechanically excellent condition, and that the bodyshell was pretty straight. The downside was that pretty much every panel had filler in it - a lot of filler, and that at some time in the car's past it had received some very poor quality welding. This isn't necessarily surprising; here in the UK, E3s spent so long being worth virtually nothing that most people didn't want to spend much money maintaining them. Our miserably damp and wet climate didn't help much either. On the plus side, the car is very, very original and I have some great history on it. Very fortunately, the father and son team who owned the car from 1980 to 1998 looked after it incredibly well; I'm convinced that their care guaranteed the car's survival.
First thing I did was to consider what I wanted from the finished car. I'm very much a 'do it right, do it once' kind of guy so I wanted to be as thorough as possible in terms of the depth of the scope of the restoration. Secondly, I spent a long time researching restoration companies, and I selected a particular specialist with an excellent track record of very high quality restorations of classic BMWs. The third thing to consider was how I'm going to use the car when it's finished. I love driving it and using it as BMW intended, so I won't be shy about putting some miles on it. To that end, I have considered a few modifications for the car. My philosophy on this is to keep it to OEM parts and keep it as factory looking as standard. I've already got a 5 speed overdrive gearbox fitted, and have now found an M90 engine from an E12 M535i to rebuild and fit. I wanted an M90 as it looks identical to my Si's M30B30 (as my car is a late model, it's fitted with L Jetronic) so that it won't look out of place, and of course there will be a nice increase in power and torque. I discovered through discussion with the son of the car's long term owner that it received a factory remanufactured engine in the late 80' (more detail here:
https://e9coupe.com/forum/threads/m90-engine-build-options.35958/#post-304312
) so I'm not hugely concerned about the originality point here; the car has long since lost it's original engine. I was delighted when I received this photo; it's the main dealer workshop where he worked in the late 1980s, showing the guys fitting the factory reman engine: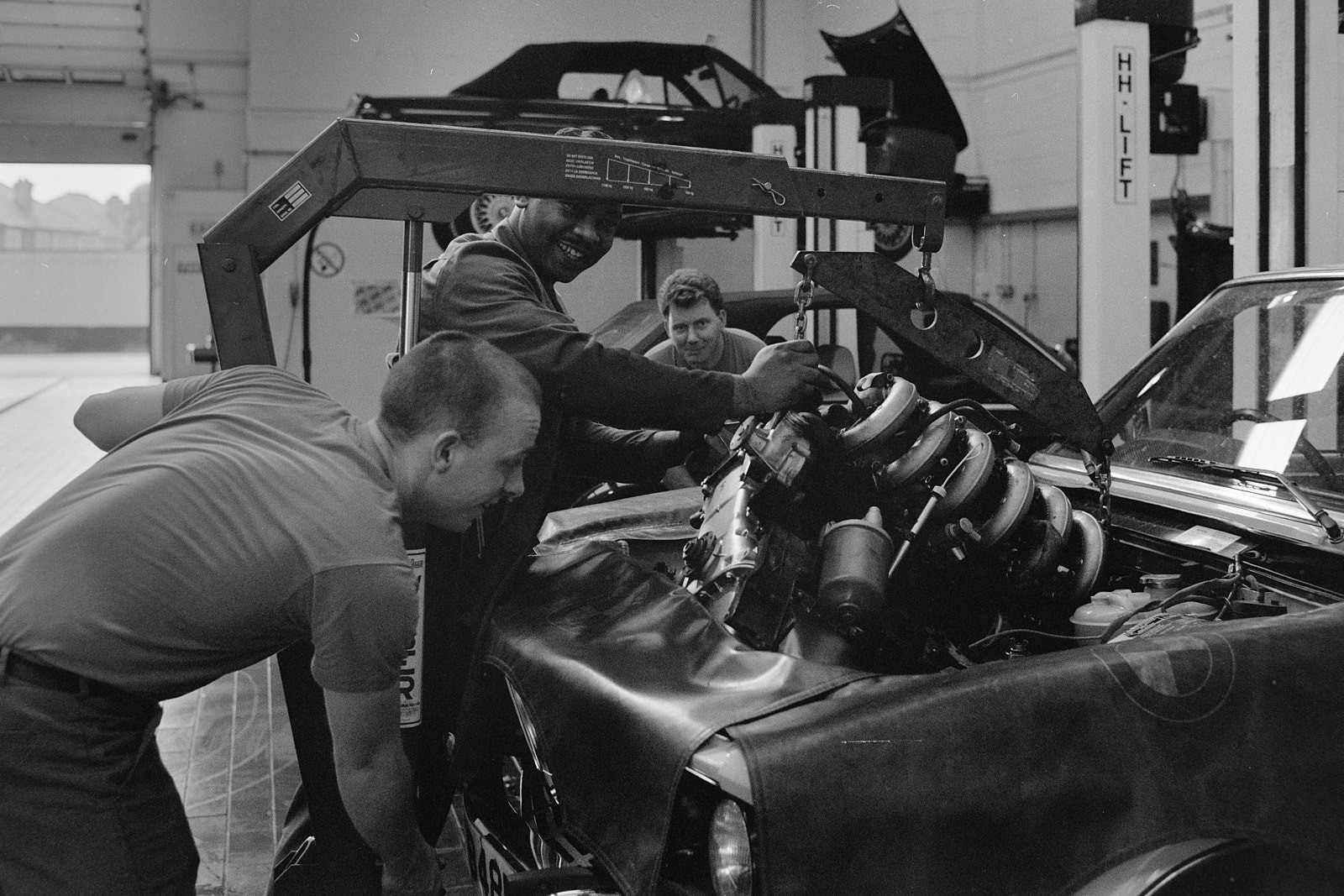 He also send me some lovely photos from when the family first purchased the car in 1980:
So, fast forward a few years until I bought it in 2012. I used it a lot. I travelled to France, Austria, Italy, Switzerland and Holland in the car, as well as driving down to Munich in 2016 in it for the 100th anniversary of BMW celebration weekend. I loved carrying out such trips in the car; absolutely what E3s are made for. More recently, I attended a fantastic weekend with the German E3 Club in Xanten, Germany in 2019 and to my surprise there was another Sierrabeige E3 at the event. This is a very rare colour on E3s, as it was only introduced in 1976. So this was an unusual sight:
Not long after I bought the car, I started collecting the parts that I thought that I'd need for the restoration that I knew would be forthcoming. One recent jackpot was finding 3 NOS genuine BMW doors, and one very good used one to compete the set, as well as new suspension parts. I've decided on Bilstein dampers all round, and E12 M535i anti roll bars (front and rear) and front coil springs, and stiffer 3.3Li rear springs: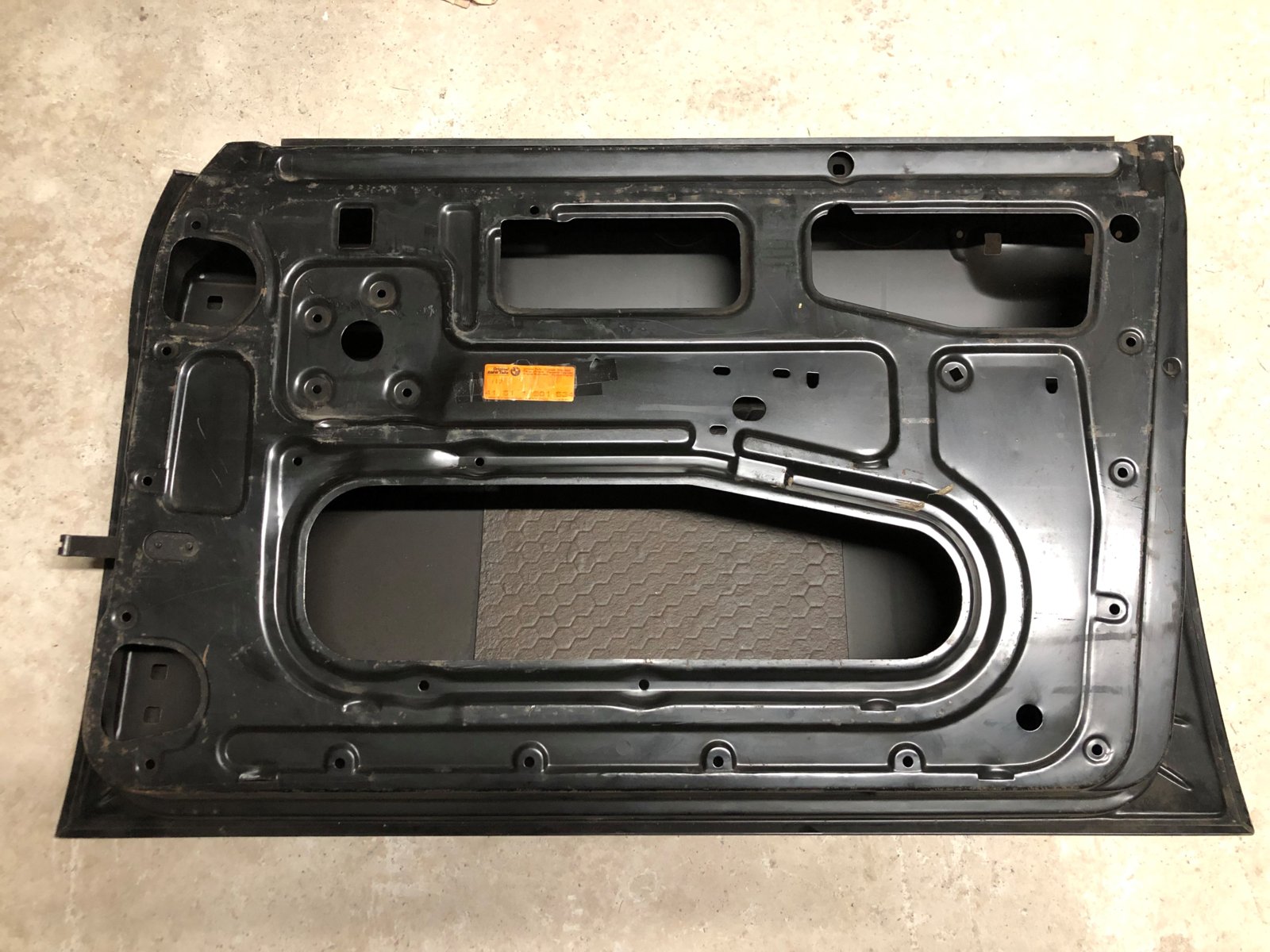 I must admit that I couldn't believe my luck when I found an excellent second hand bonnet that was being used by an art teacher to instruct her students on how to use different types of paint on different surfaces. Whilst it was covered in many layers of paint, it was in fantastic condition and was an absolute bargain.
So, the strip-down began. I started this work off at home, with the idea that the car would go to the bodyshop for the more involved work. Whilst it actually looks pretty good in these photos, appearances can be deceptive....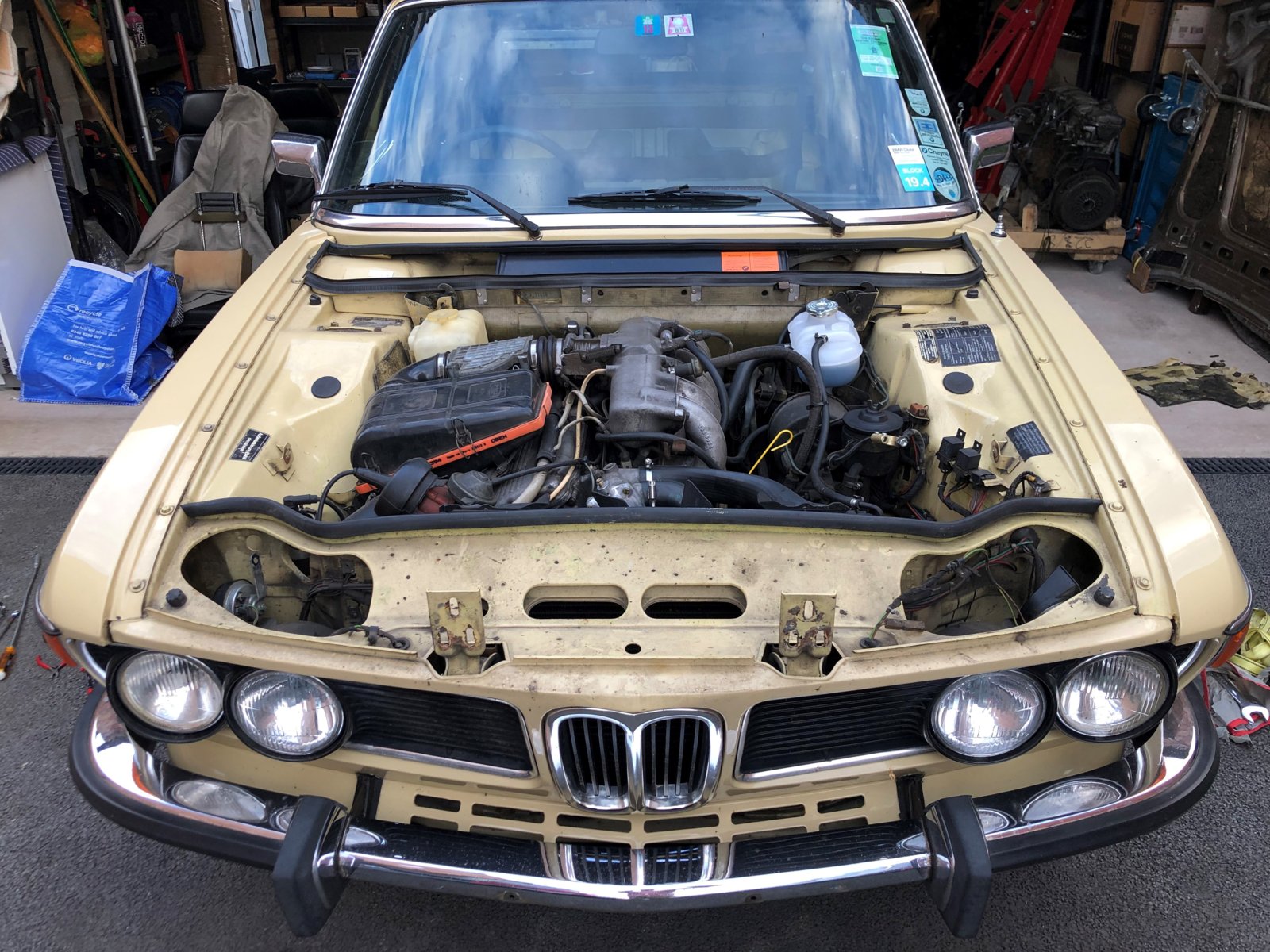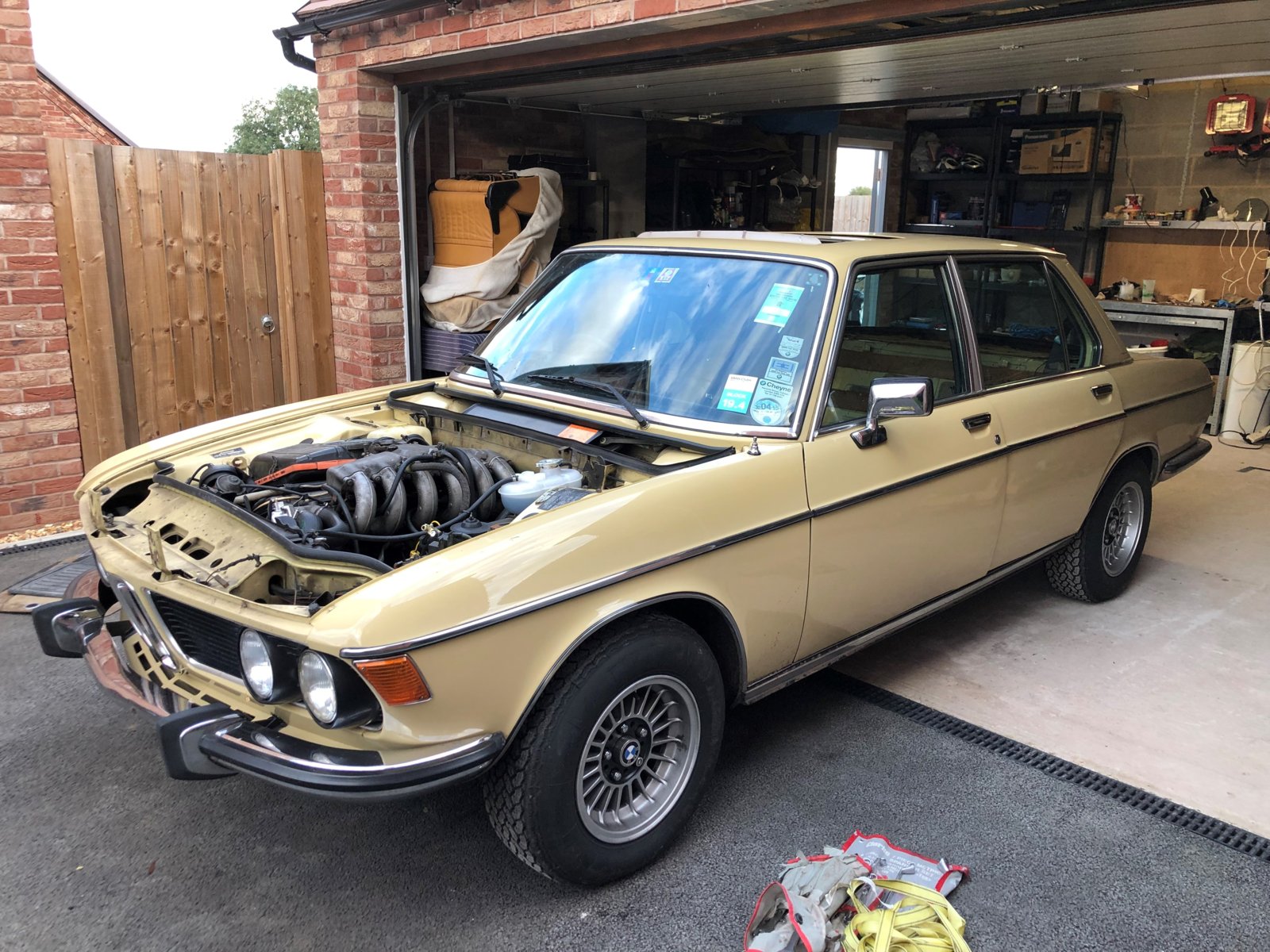 You can see here why I was so pleased to find a really good used bonnet: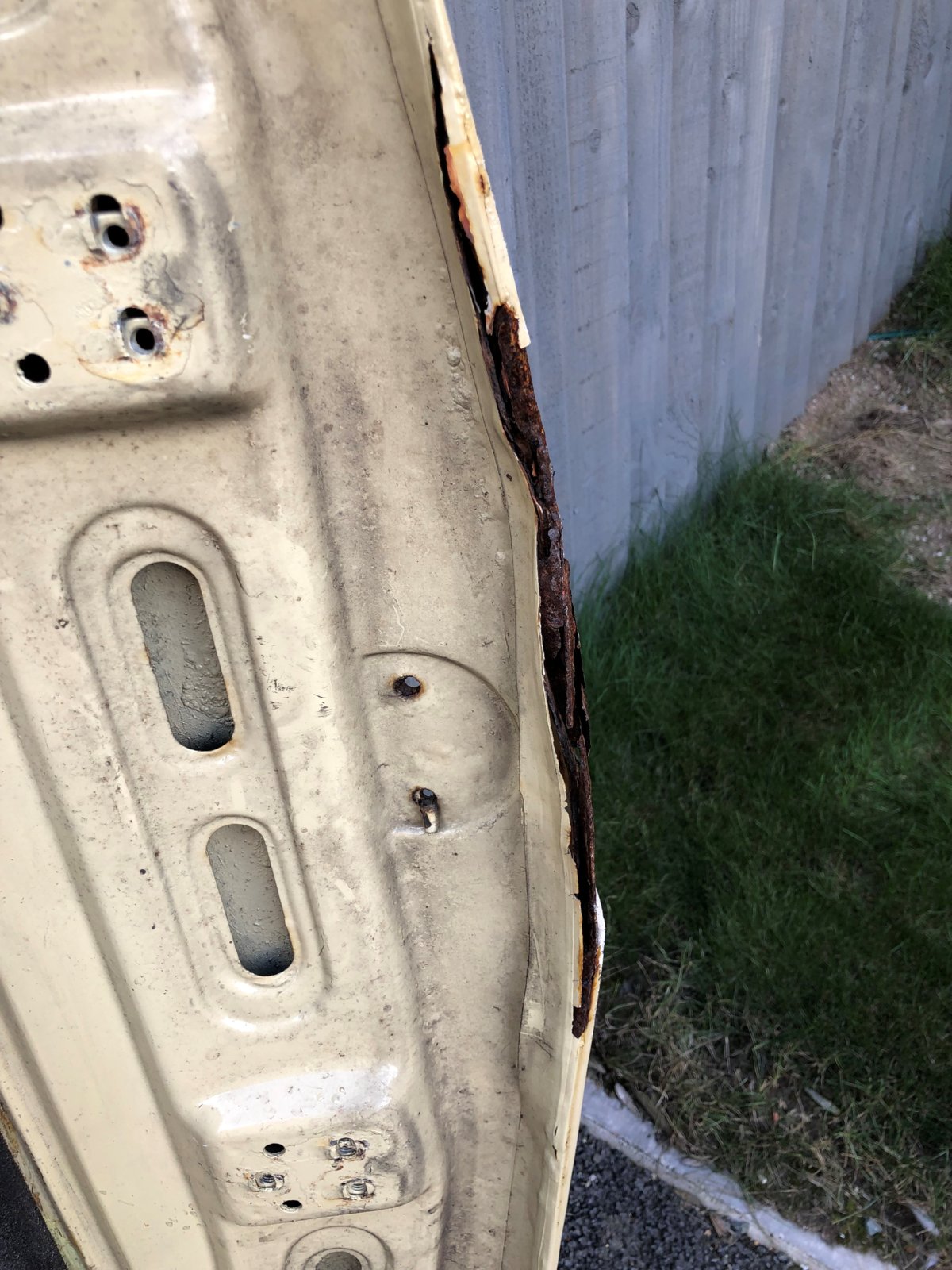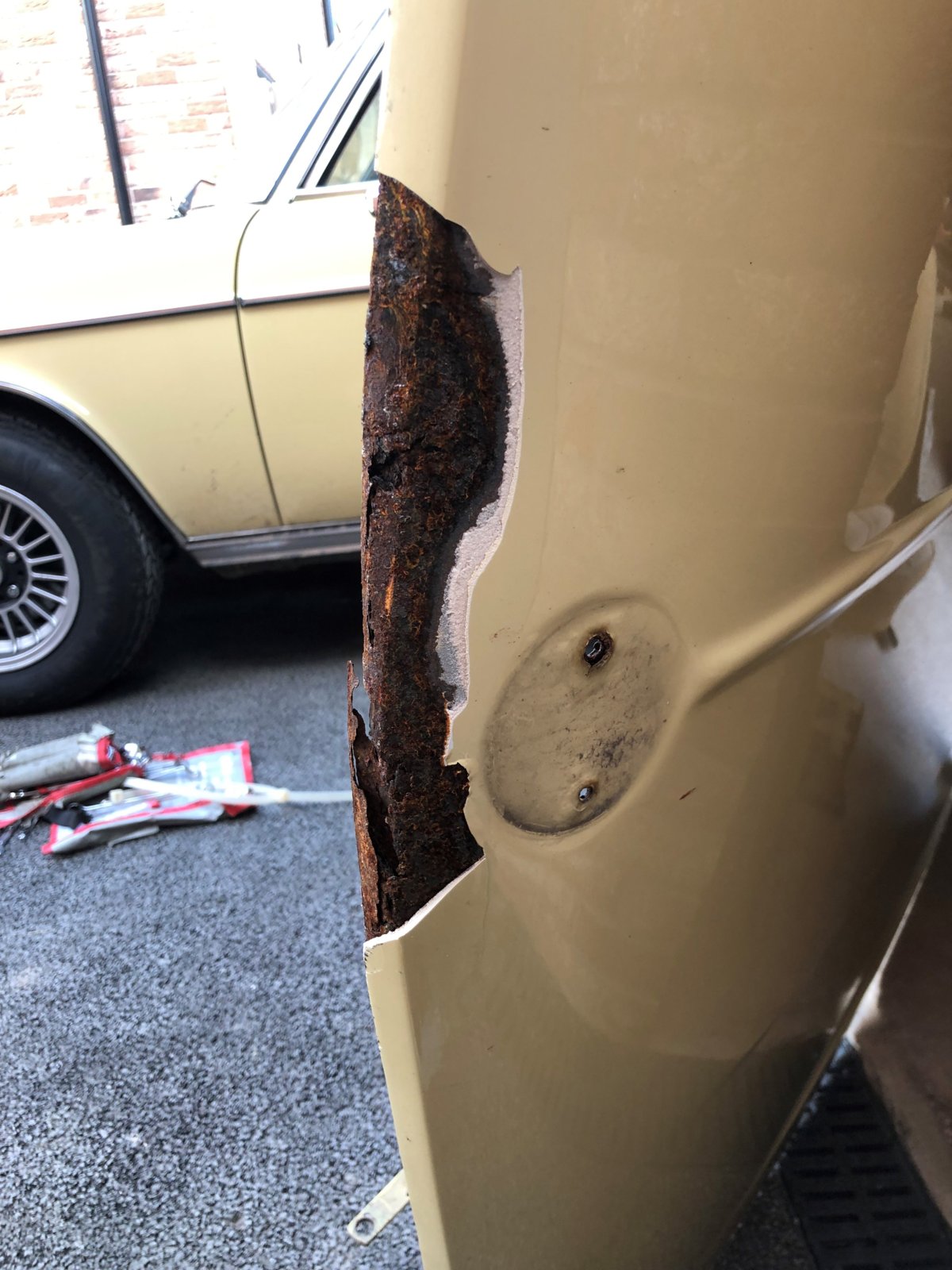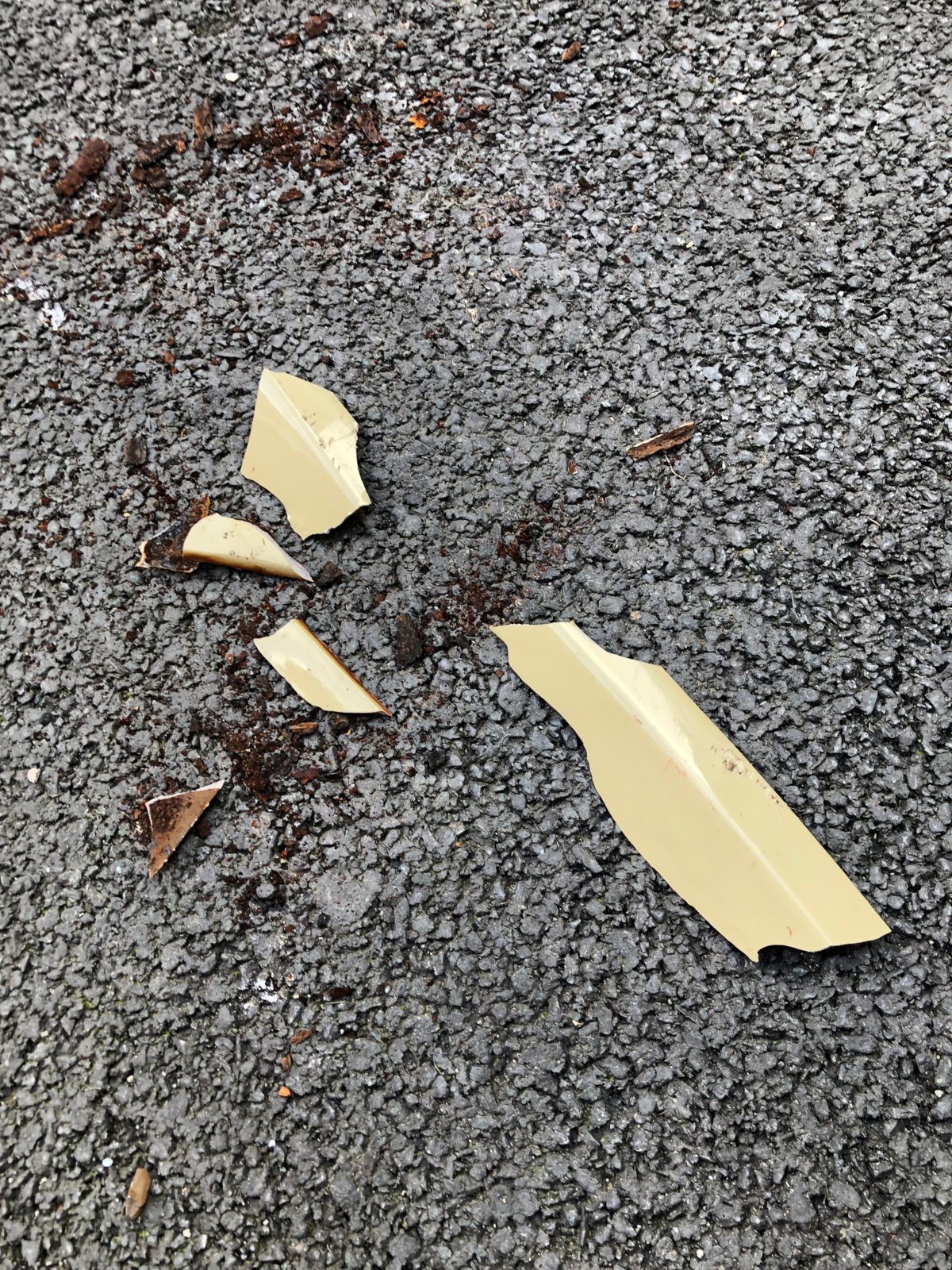 And then the day came for the car to go to the bodyshop. More to follow!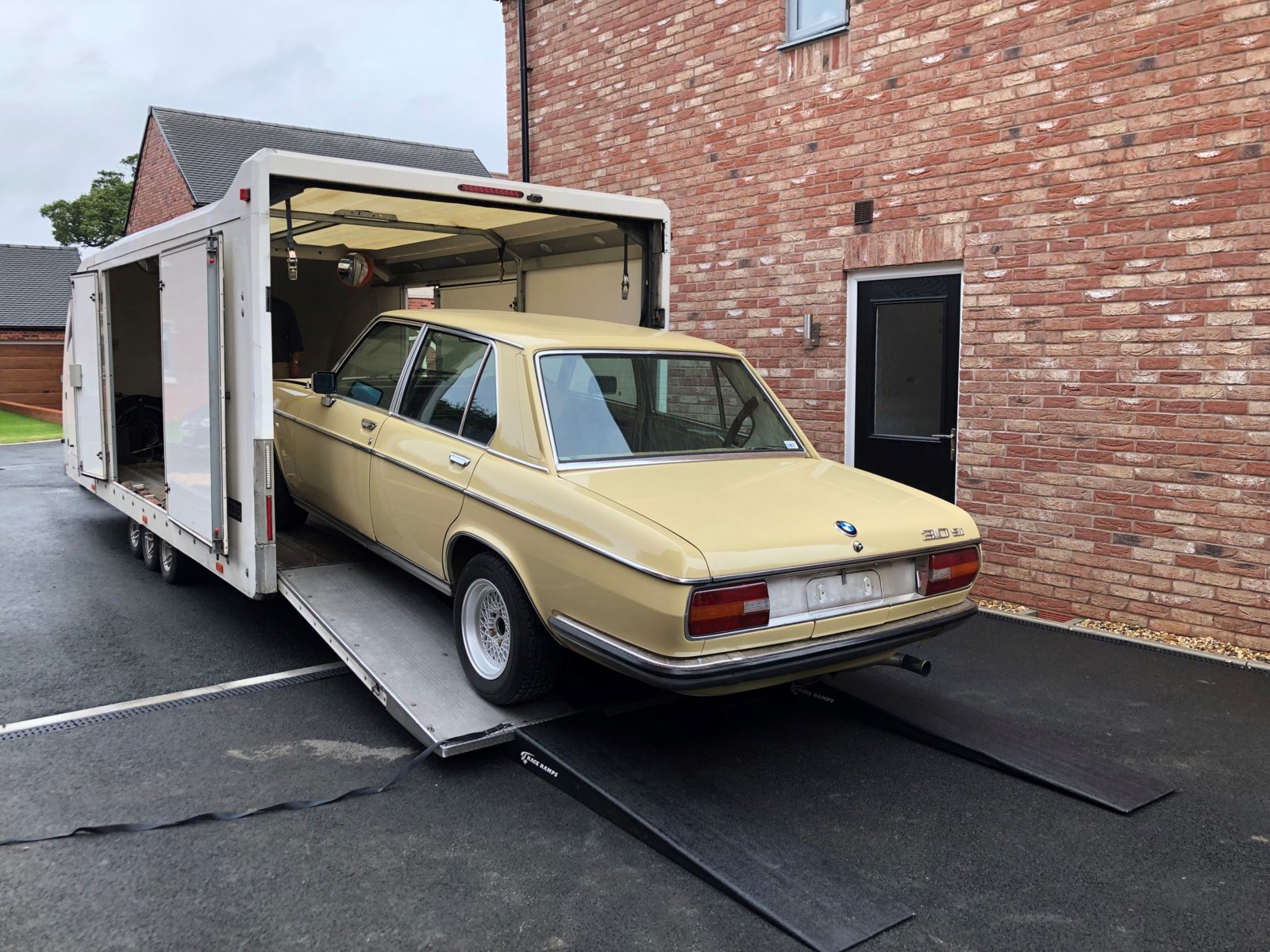 Last edited: