Well-Known Member
Site Donor $
Messages

270
Reaction score

402
Location
By semi-popular demand here it is... my build thread! Those who read my
IKEA Effect
thread know that I'm somewhat ambivalent about making this public but there was some interest and I think the build is interesting. To make a long story(so far) short, I started on a B35 swap that has crept into a full-on rotisserie restoration with Tesla EV conversion.
I bought a "nice from 15 feet" 73 Baikal Blue USA Automatic coupe off eBay back in 2015. My wife and I drove it home from NorCal but the secondaries were stuck closed in the Webers and the trans wouldn't kick down. I spent a few years fixing little things and driving it. It was fine but there was some rust (spare tire, right rear floor, rocker rear corners) and it smoked a bit on deceleration so I decided to embark on a motor upgrade and undercarriage cleanup, without messing with paintwork yet. I'd save that for a full resto at a later date.
I hate to admit, but this is the *before* photo​
ChrisHB put me in touch with sfDon and I started assembling all the bits for a M30B35 swap. I got most all the parts together from Don and took the car to the SoCal Vintage meet in November 2018 before driving it home and beginning disassembly for the heart transplant. I was thinking I'd get it done over the holiday break. One thing led to another (unexpected rust, a "while I'm in there" attitude, and a desire to "do it right") and before you knew it I had built a chassis dolly and sent it off for media blasting.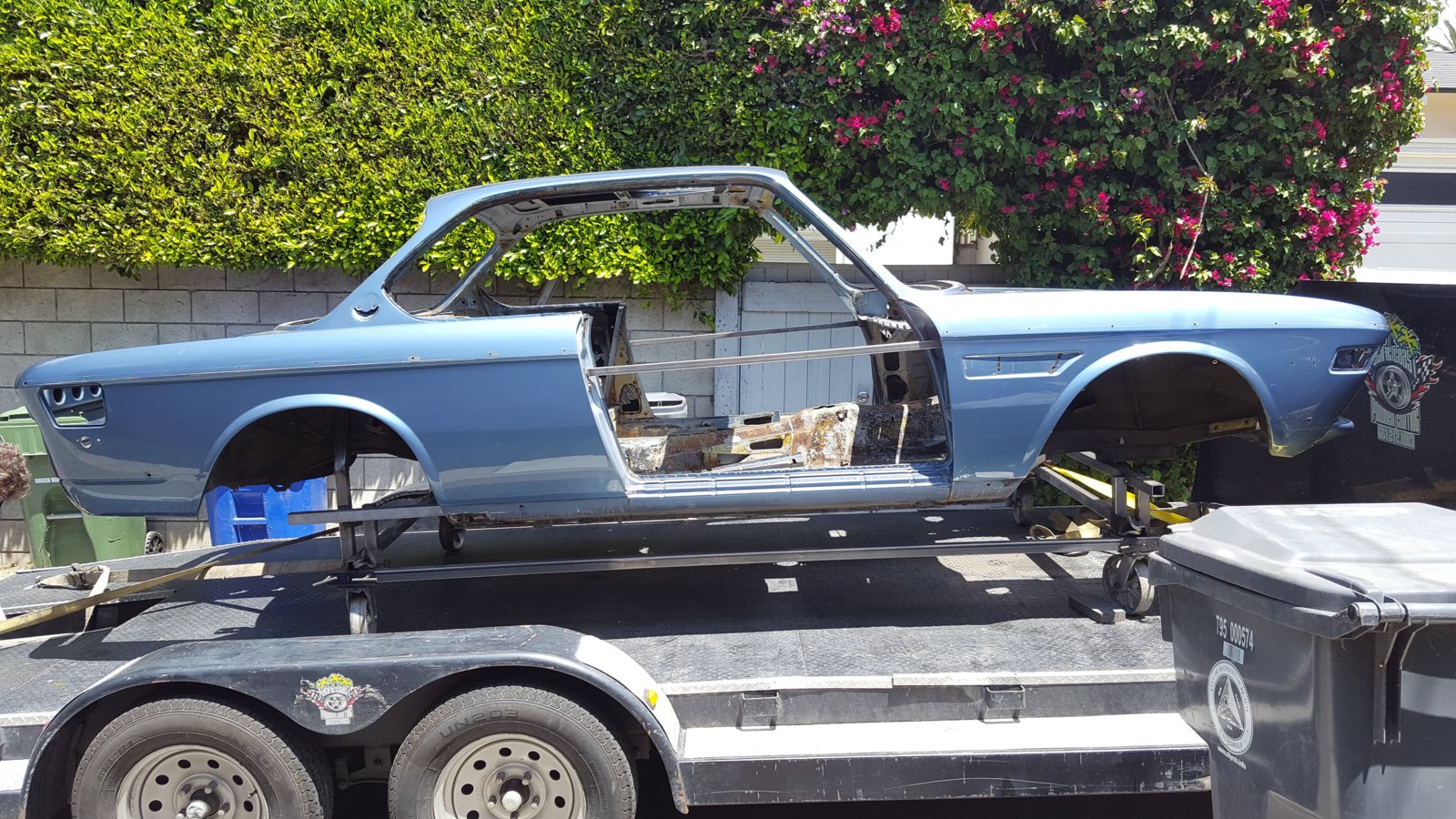 This is what "Scope Creep" looks like​
Along the way, JetDexter started his CSE build thread. I'd always been interested in electrification of old cars. My daughter has a 64 Impala lowrider and I always thought a lowrider would make a great candidate for EV (they aren't driven far and they're already full of batteries for the hydros and they have huge trunks and the lighter upfront the better for 3-wheel motion) but the idea was too expensive and complex.
My daughter loves her 327 SBC and one lowrider in the family is enough, really.​
But I went to visit Paul's shop and caught his enthusiasm. His CSE project made me think the conversion was feasible so, despite having accumulated the best of everything for a B35 swap, I decided to ride his coat tails. Result? Be on the lookup for a a lot of "Electrification Forces Sale" posts on the Parts board in the next few weeks. If you're in the market for a "best of everything" show quality, ceramic coated, zinc plated, etc, etc. B35, 5-speed, LSD driveline let me know. Feel free to ask Don about provenance.
At this point, the car is sitting next to Paul's and Tyler has started rust repair. Fortunately, there were no big surprises from blasting. A few pinholes in the roof at the back edge of the sunroof and a little bit of prior bodywork near the right front turn signal but otherwise nothing I didn't already know about.
Charlie
: You were in a 4G inverted dive with a Mig 28?
Maverick: Yes, ma'am.
Charlie: At what range?
Maverick: Um, about two meters.
Goose: It was actually about one and a half I think. It was one and a half. I've got a great Polaroid of it, and he's right there, must be one and a half.
Maverick: It was a nice picture.
Goose: Thanks.
Charlie: Eh, lieutenant, what were you doing there?
Goose: Communicating.
Maverick: Communicating. Keeping up foreign relations. You know, giving him the bird?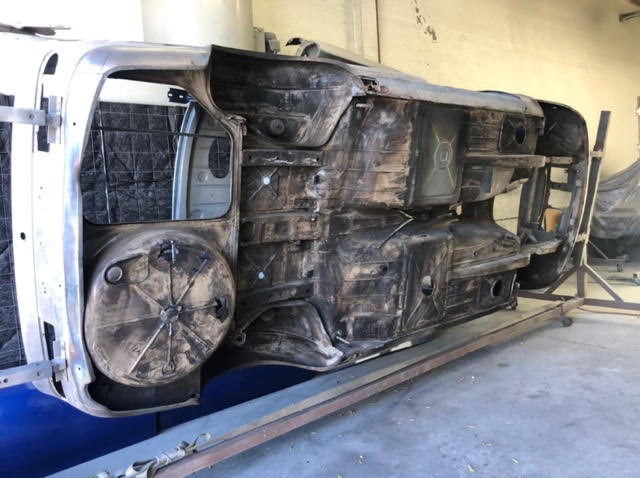 The factory undercoat was tough to remove. Even media blasting just bounces off.
The exterior body panels were blasted with plastic bead so no heat, no warping.
​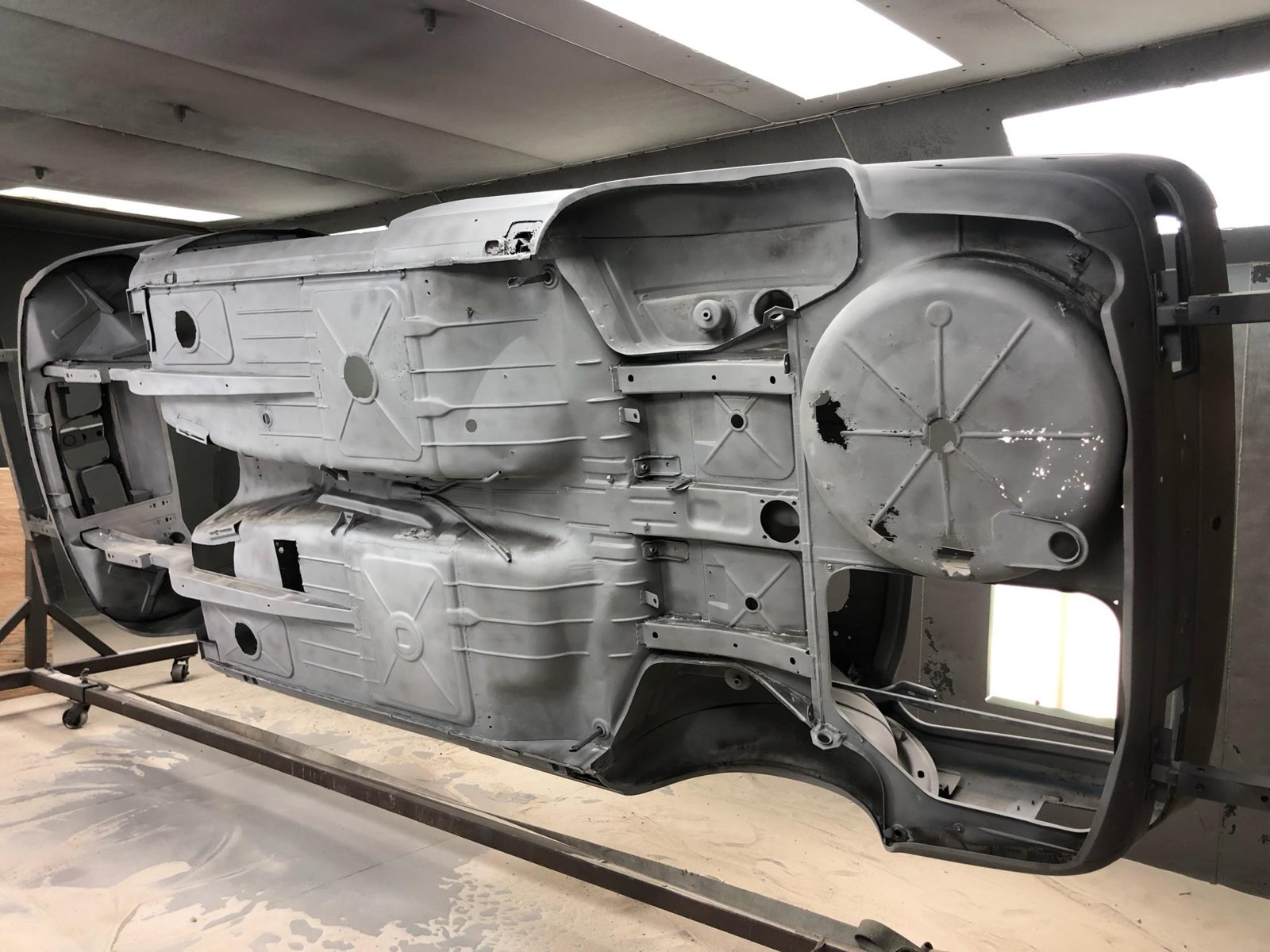 After media blast with "dirty 30" grit. I had patched the right rear floor before giving in to professional help. I had also cut out part of the right front floor and opened up the rear rocker corners. Obviously, the spare wheel well was toast, but that just made the decision to go electric that much easier. Other than that, it really wasn't too bad.
​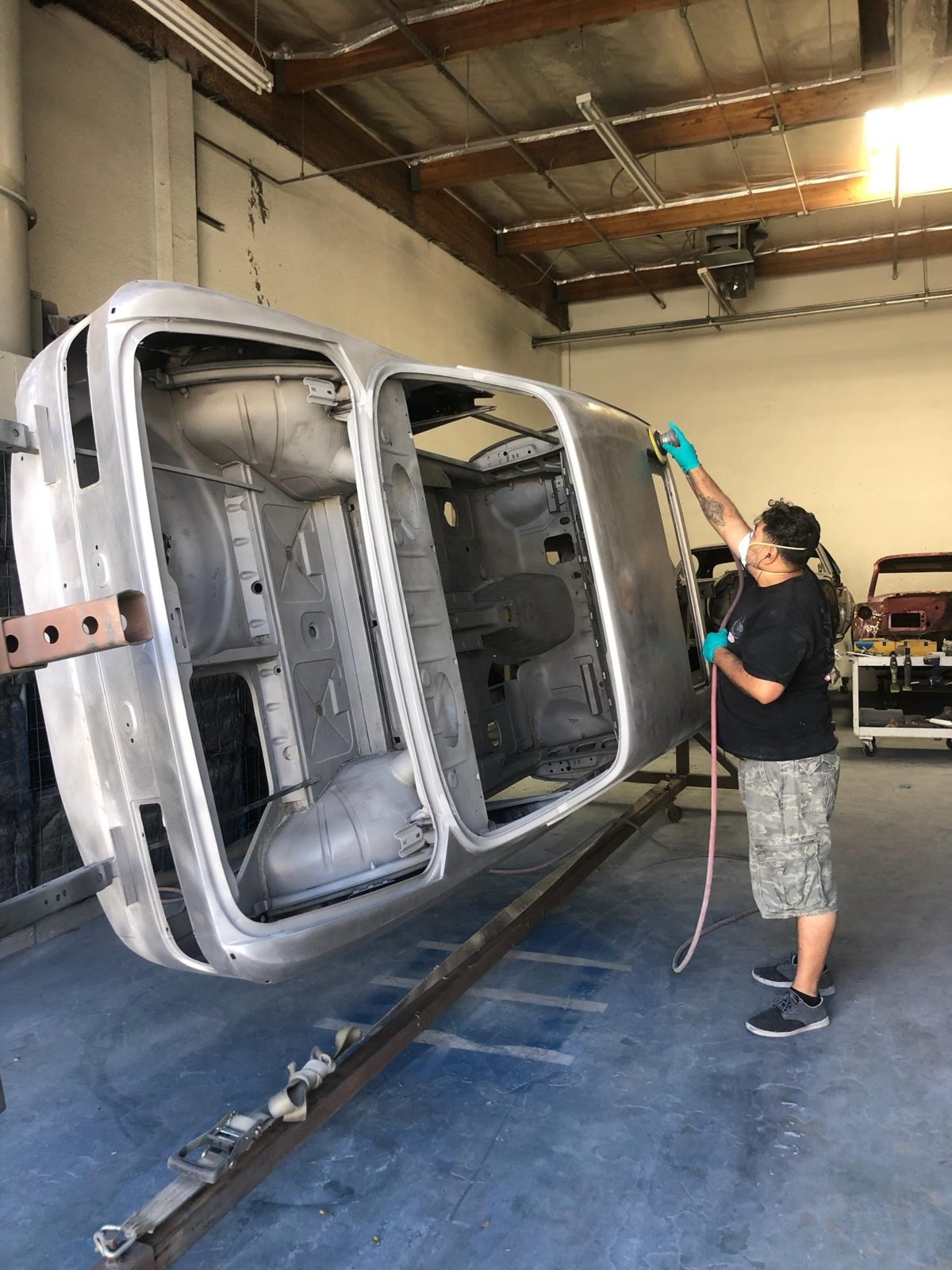 Prior to sealing. Before someone gets all wiggy about the rotisserie bracket mounts, this is a US car so it has big braces welded in behind the bumper brackets, plus they welded in some braces to the trunk floor also. No coupes were harmed in this photo.
​
Other than the known spots, it really is quite solid.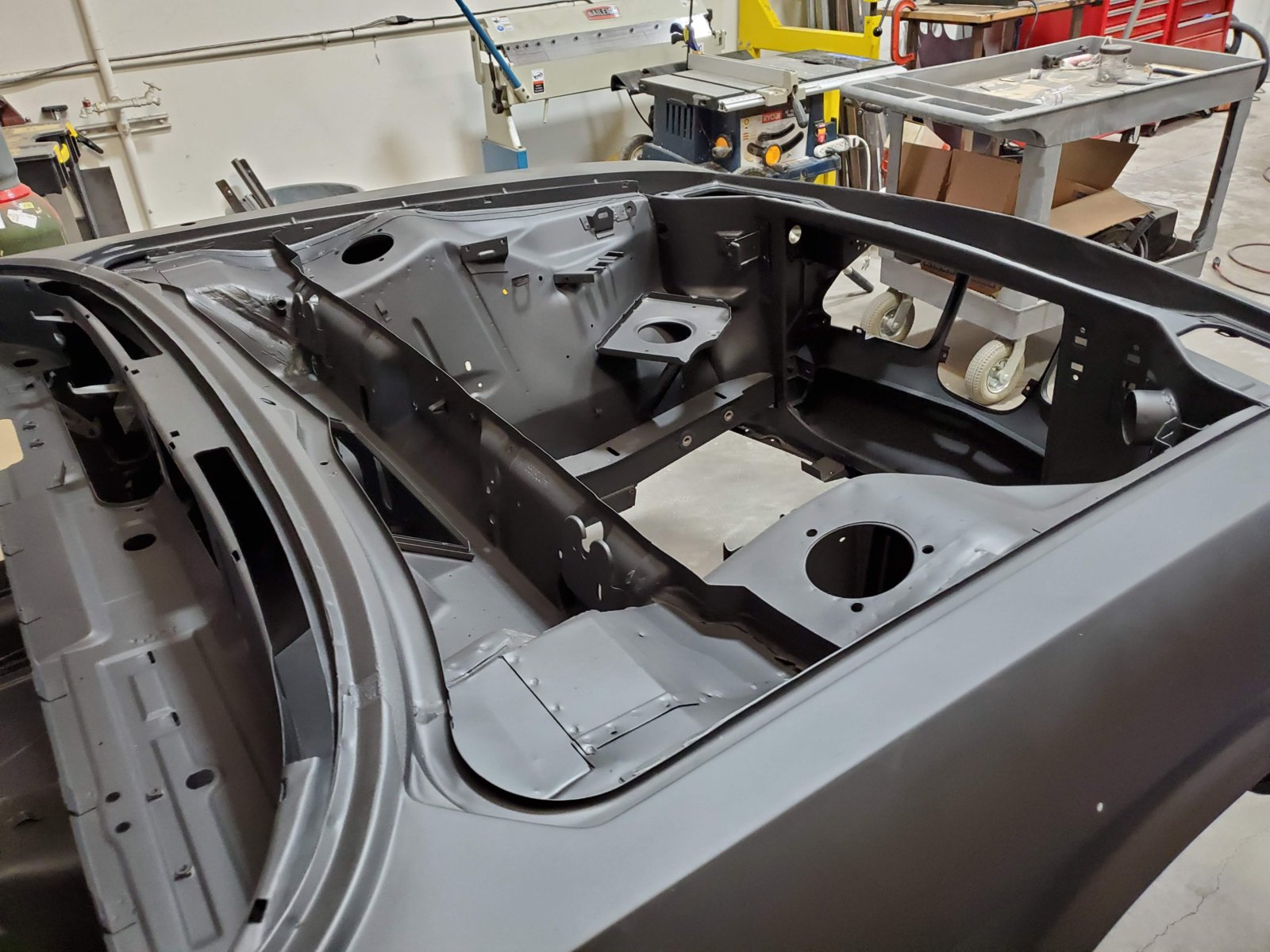 The shock towers are perfect. No rebar and fiberglass here (that one's for you, Paul).
​