Well-Known Member
Site Donor $
Site Donor $$
Messages

2,491
Reaction score

785
Location
In the grand tradition of Better Late Than Never, I am retroactively starting this build thread many months after it started.
First I feel a debt of gratitude to those who have started and kept up similar threads for their own car. It is both very entertaining and totally inspiring. I want to try and give a little back. Second, it will be good to have a record of this coupe's rebirth and a list of all that was done to it.
The car was built in December 1973 as a 74 model. While it had a number of really good upgrades (rust proofing, electricals, wiring, crash resistance, seats and seat belts etc...), the US version took a few wrong turns, mainly with the EPA and DOT stuff. The added emission equipment came from a noble intention. But we can now replace all that with a later, much cleaner and more efficient fuel injected motor. This car also succumbed to the lazy man's claim that shifting gears all by himself was too tiring. This goes very much against the spirit of this car in my opinion. And finally, the previous owner also made a misguided color change. All of this will need to be addressed.
So, here is the master plan:
1. Replace DOT bumpers with original ones.
2. Replace strange steelies with 16" BBS
3. Replace the auto tranny with 5 speed
4. Return the car to its original fjord color
5. Replace engine with B35 one.
That's it.
It will be very important to stick to just these 5 steps and not get caught up endlessly adding things to fix "While we're at it" like most people end up doing.
-----------------------------------------------
Dateline October 2015.
After months of searching to replace my first coupe (
http://www.e9coupe.com/forum/threads/returning-after-22-years.19923/)I
find an ad in the Classified section of this forum offers a California '74 in apparently decent shape.
http://www.e9coupe.com/forum/threads/selling-3-0cs-santa-barbara.20374/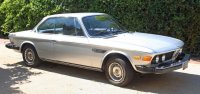 Last edited: