Conspirator
Staff member
Site Donor $$
Messages

12,204
Reaction score

5,858
Location
Hi Folks,
As of late I have been attempting to better understand how the E3/E9 headlight wiper system works. I need to put together the plumbing and electrical for my wipers. I've talked to several folks including a sales contact in Germany, Nicad, Luis A., Carl at La Jolla, and Brucey over on BigCoupe.com. I hope that anyone familiar with this system can chime in to help.
Nicad used my initial inquiry as a chance to overhaul his system and snap loads of pics (see a few below). Luis sparked the idea to create a thread via a response to my recent PM:
Markos said:

Hi Luis,

I think it was Nicad that mentioned that you have a functioning headlight wiper system. I was wondering if you could outline the functionality and perhaps even take some pics. I recently purchased everything except the wiring and the 2 bung tank (which is still available new). Do you have the auxiliary tank that sits in the cowl? My biggest question is around how it's activated and wired. I have someone that can help me wire it up, but I need to understand what parts are in play. I have access to realoem and the factory installation article, but it doesn't really outline the activation process. Any help would be greatly appreciated.
Luis A. said:

This would benefit the whole E9 community. Why don't you post this as a question in the forum and I'll respond. No reason to keep it private.
So here we are, a thread devoted to an obscure BMW accessory that no modern day coupe owner needs, but a select few (myself included) lust after.
Before Luis chimes in, I'll throw down what I have learned.
System:
BMW Accessory found on a limited number of coupes. They seem to be much more common in Europe, and I were required in certain parts of the EU including Scandinavian countries. They also seemed to be more common on the E3, especially the 3.3's.
Factory Installation:
http://www.e9-driven.com/public/library/bmw-e9-manual/pages/en/61630050.html
Washer Tank(s):
The dual-bung tank is still available at a fair price:
https://www.ecstuning.com/b-genuine-bmw-parts/tank-euro/61671356191/
The original kit included an auxiliary tank that sat in the cowl, much like the intensive tanks found on later model vehicles. From what I gather however this was just a gravity fed extra tank. The installation manual shows this, but here is a pic. This tank is NLA as of January 1992 and they are very difficult to source. Realoem.com doesn't show the part number for the associated picture #18, but it can be found in the white parts binder. The number is 61671357833: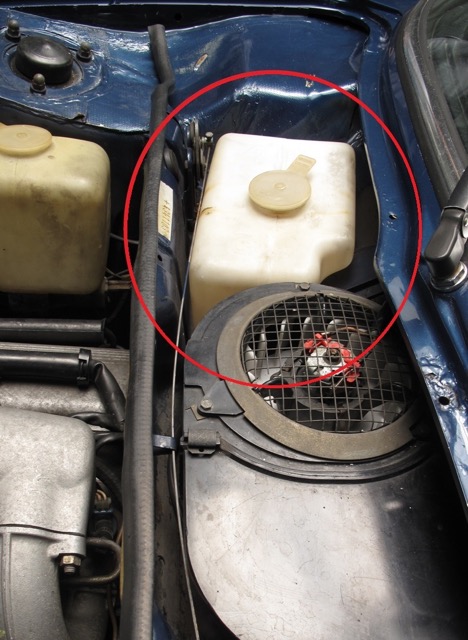 Washer Pump:
The dual-motor is NLA. If you can find the bracket, you can most likely fit a used pump to it, or rebuild your existing pumps.
BenzWorld is a great resource for shared platform parts. Below is a write-up that outlines how to rebuild a VDO washer pump.
http://www.benzworld.org/forums/r-c...-repair-windscreen-headlight-washer-pump.html
Pics of the dual pump courtesy of Luis A.
Replacement of the NLA dual pump courtesy of Nicad:
Early e24 dual pump courtesy of QtheGenius (Jonathan @LaJolla):
Headlight Buckets – Subject to input from forum:
Something I noticed with my cars is that there were two different versions of the headlight buckets. One version has provisions for the wiper motors, one version does not. I'm not sure if/when the change happened. What I know is that e3/e9 used the same buckets. Assuming that the buckets haven't been replaced on my personal cars, this doesn't seem to be a euro vs us, or year over year thing. My late model car is missing the provisions and both are euro.
No motor provision:
Motor provision:
Also, interestingly enough e24's have the provisions for the center mounted wiper motor, even though the motor mounts on the inside edge of the bucket, Courtesy of QtheGenius (Jonathan @LaJolla). His other side didn't have the provisions - strange:
Headlight Rings:
When I first saw Nicad's headlight rings I thought that perhaps someone fabricated the wipers stops. I later learned that two types were offered. There are the early style rings with black pins used as wiper stops. BMW later switched to the more familiar L-shaped tabs that persisted through the 80's. Given that my car is a '71, I probably should have gone with the earlier rings. I opted to go with the later models units as I preferred the look. I also intend to publish a surface file to 3D print the wiper stops, which should serve the community at large. More on that in a different thread.
Looking at my rings, I think one could simply drill holes at the correct spot on a standard headlight ring and add the stops. A good way to save $100+
Both ring styles side by side:
Early Rings:
Late Rings: Photo courtesy of Luis A.
Wiper Motors:
Bosch made these 12v motors for various euro cars. They all look essentially the same, but they vary somewhat. The motor shaft length and spline count is different. Also the mounting bracket for the motor is different. I haven't tested this, but based on my research the degree of sweep should be different across the motors. I presume that this may be adjustable if you take the motor apart. That would be good engineering anyway.
My old BMW motor and some Mercedes motors I bought. Notice how close the BMW part number is to the Mercedes:
My NOS motors, compare mounting point and shaft differences to the e24 motors below
The motors can be rebuilt if you remove the epoxy. This is good news for BMW owners as the motors are NLA. As long as you have the motor housing, shaft, and mounting points I suspect that one could dissect a Mercedes motor for parts or rebuild their existing motor.
Excellent write-up from Brucey on BigCoupe.com. I confirmed that the e3/e9 unitls have the same right-side master, left-side slave setup as the e24.
http://bigcoupe.com/phpBB2/viewtopic.php?t=2107
The harness connectors for the wiper motors were used throughout the BMW range (per HB Chris - who donated Luis one from a 2002).
This is the connector for the left side (slave), as noted by the threa wires instead of four. Photo courtesy of Luis A.
Grille Cutout for Wiper Shafts:
Nicad covered much of this here, but I will repost below for consolidation purposes:
http://www.e9coupe.com/forum/threads/headlamp-wiper-retrofit-grill-modification.11031/
Photo courtesy of Stefan:
http://www.e9coupe.com/forum/attachments/img_0332a-jpg.4753
"As best as I could measure, my slot is the following:"
Front : 1 12/32"
Bottom: 1 7/32"
Top: 1 12/32"
Back: 2 4/32"
Distance from the top horizontal slat:
http://i34.photobucket.com/albums/d119/salty_1977/P1060832.jpg
Plumbing / Wiring:
This is uncharted territory for me.
Paging Luis A.!!!
Circling back to Brucey's diagram for the e24. Although there is no intensive system on the e9, I presume the check valve and splitter plumbing from the main tank is essentially the same:
http://bigcoupe.com/phpBB2/viewtopic.php?f=6&t=2247
A picture of the sprayer nozzle location courtesy of Nicad:
A picture of the check-valve functionality courtesy of Brucey on Bigcoupe.com
Last edited: