Well-Known Member
Site Donor $$
Messages

9,136
Reaction score

2,358
Location
14" Wheels
Tire Size Chart
<< Note - tire diameter / revolutions per mile vary between manufacturers >>
175/14 –- dia. 24.7", width 7" / tread width 4.8", circ 77.7", rev / mile = 834
195/70-14 -– dia. 24.7", width 7.9" / tread width 5.7", circ 77.7", rev / mile = 839
205/70-14 -- dia. 25.1", width 8.2" / tread width 6.7", rev / mile = 821
225/60-14 -- 24.7", width 9.2" / tread width 7.6", circ 77.7", rev / mile = 842 <rear only, caution - tire is over 9" wide>
Vintage Tires / Vendors
Michelin XWX - (Coker / Longstone / Lucas Classic)
Pirelli Cinturato CN36 - (Tirerack / Longstone / Lucas Classic)
Vredestein Sprint Classic - (Tirerack / Coker / Longstone / Lucas Classic)
Dunlop Sport Classic - (Coker)
BF Goodrich Radial T/A - (Tirerack / Coker / Longstone)
Blockleys - ( Lucas Classic)
Stock Wheels - CS
14: diameter / 6" width / ET11
Tire Size - 175 - 14 (early coupes)
Tire Size - 195 / 70 - 14
Alternate tire size - 205 / 70 - 14
Alternate tire size - 225 / 60 - 14
1969 - 1973
FPS 20 Spoke Alpina style
14" diameter / 6" width / ET11
1974-1975
Stock Wheels - CSL
14" diameter / 7" width / ET11
Tire Size - 195/70-14
Alpina 5 Holes (later versions have 10 holes)
Note: Tires are Pirelli CN36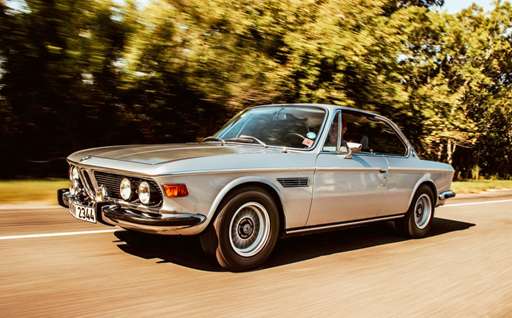 There are apparently 3 different versions of the 5 hole Alpina wheels (all relatively rare and the correct wheel for a CSL, followed by a 10 hole version (the most prevalent). in the 5 hole versions the location of the ALPINA logo in relation to the valve stem hole tends to vary. if the valve stem hole is at "6:00", the 3 versions of ALPINA have appeared at 11:30 / 2:00 and 7:00. as you see on the one with the BMW logo, the ALPINA is at 2:00. the entire set that was just sold were all at 2:00 and were manufactured 4/73. so not only should you look for a set that has the same date code, you want to be sure that the ALPINA / valve stem hole is consistent.
version 1 - no bmw logo - p/n 2800206 / no KBA number - this is correct for the Carb CSL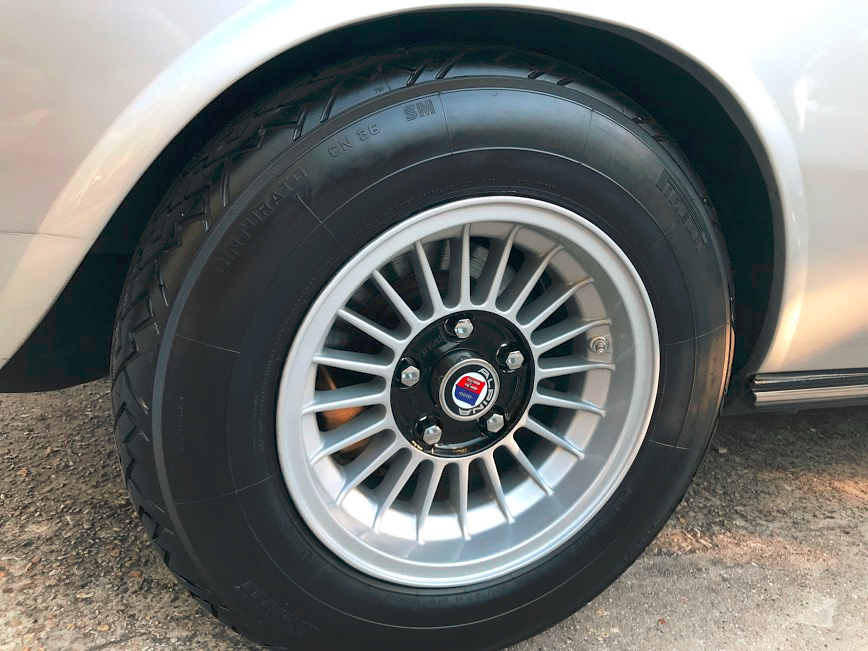 version 2 - no bmw logo - p/n 2800200 or xx206 / KBA # 1110344 - this is correct for the 2275xxx CSL - the overall pic of this wheel had the alpina logo at '2:00'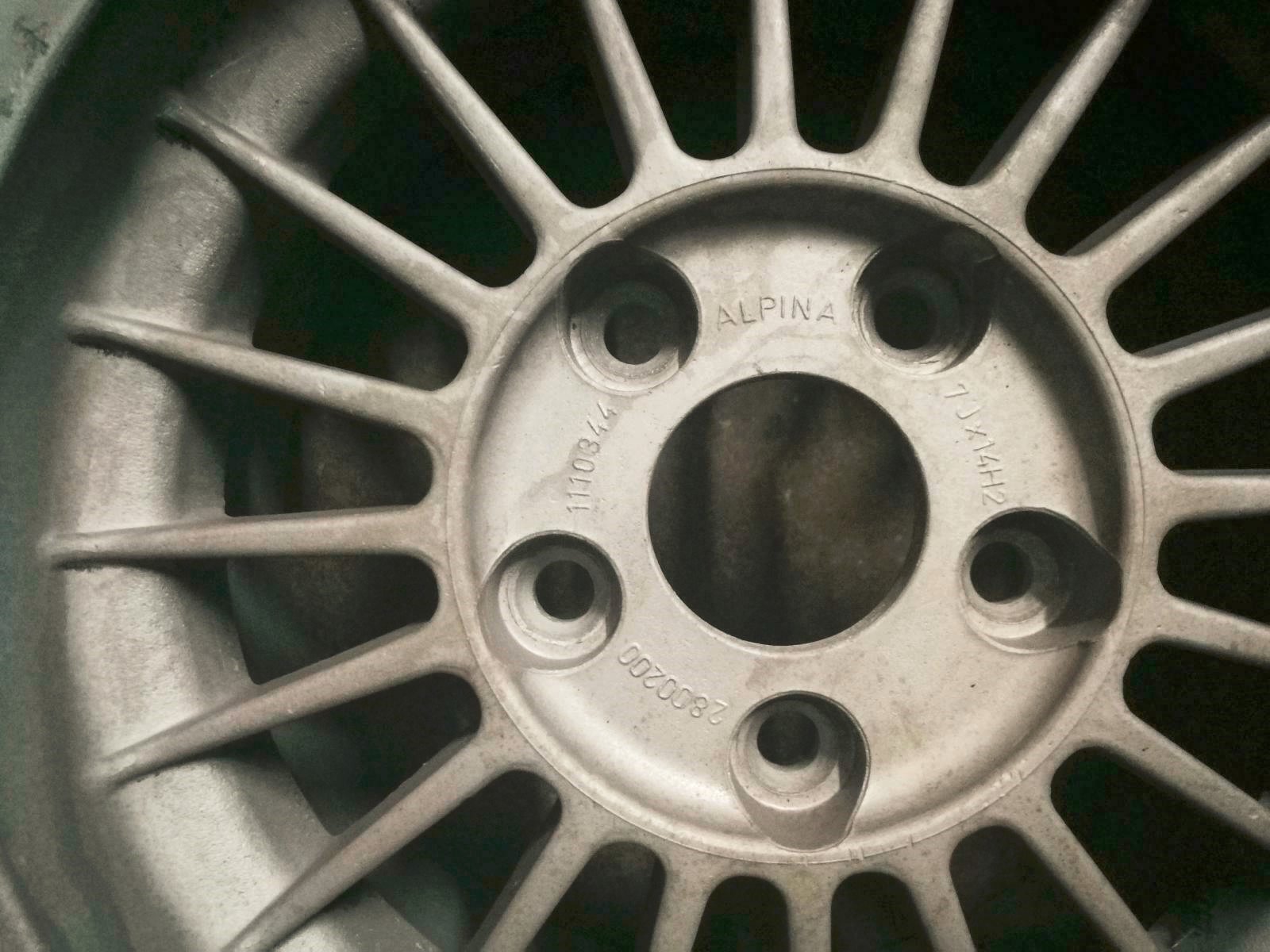 this v2 wheel has the alpina logo at '11:30'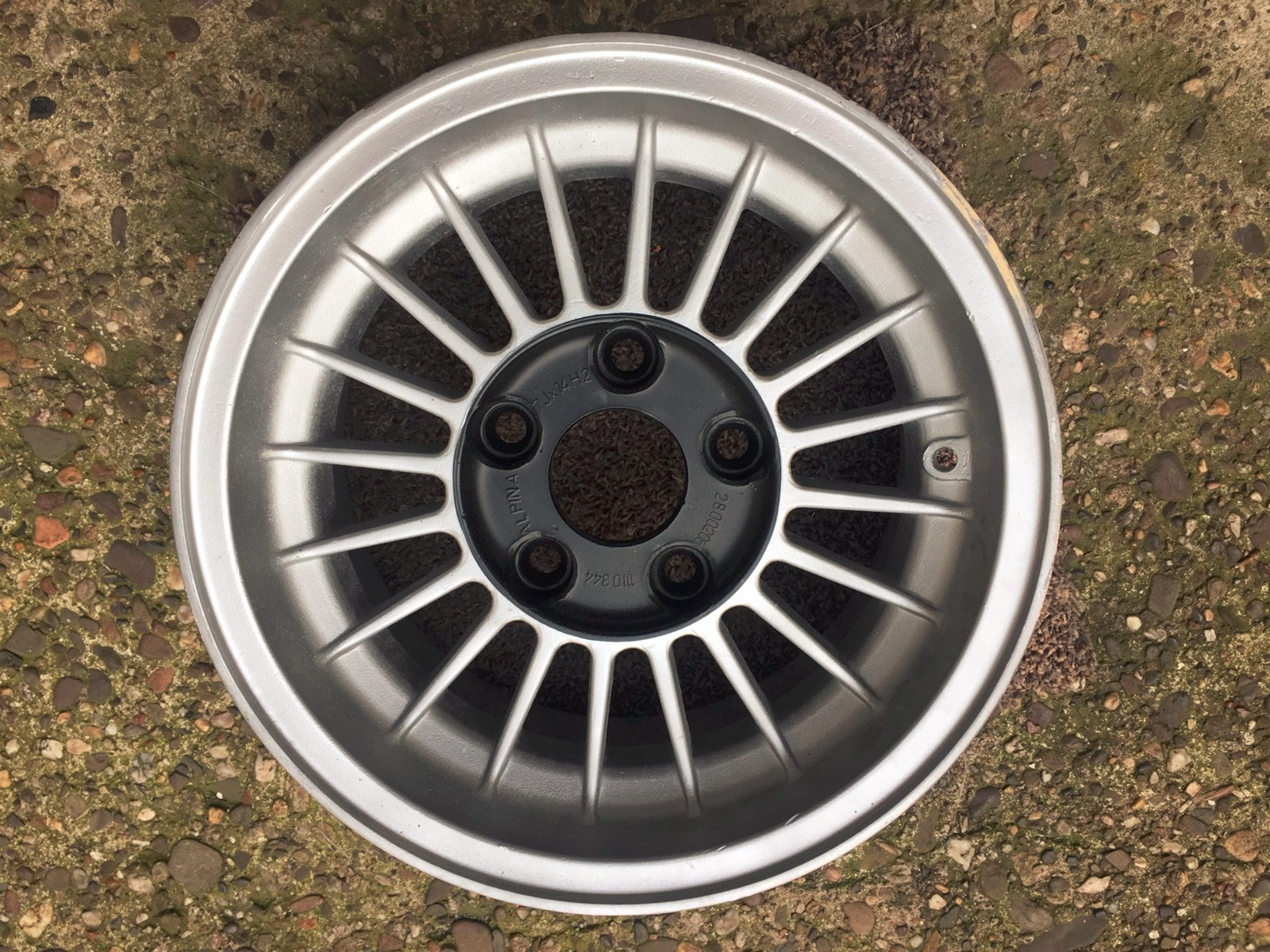 the late version - with BMW logo - alpina p/n 2800206 / KBA #1110345 - these wheels came on the BAT cars (my understanding is that the date code started in early 1973 for these. the one below i believe is 4/73, and the alpina logo is at '2:00' - i have seen pics of the v3 wheels at 11:30 / 2:00 / 7:00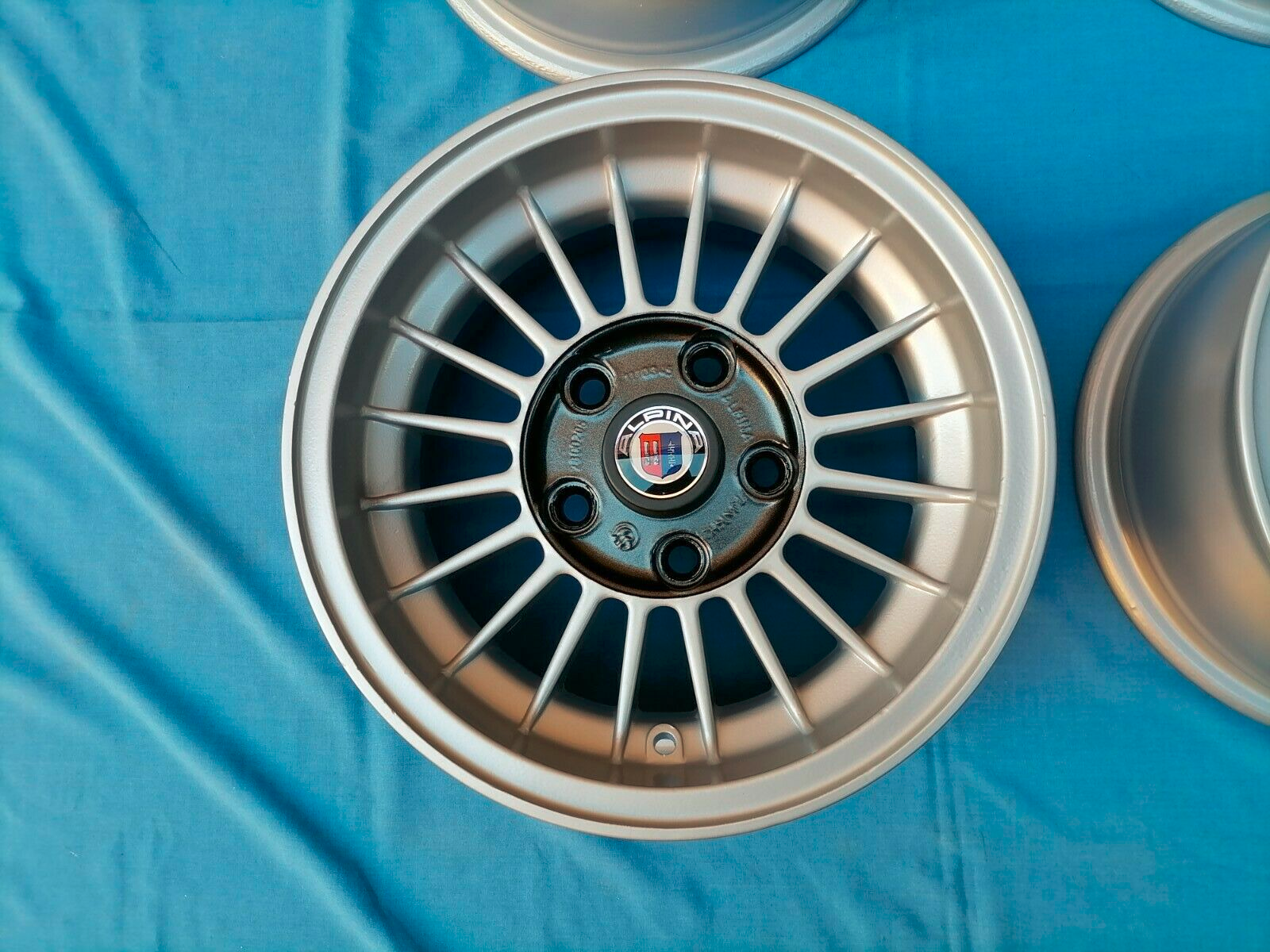 it has also been brought to my attention that the center of the v3 wheel should be gray, not black - this v3 wheel also has alpina at 2:00
and finally, there is the 10 hole Alpina wheel the attached image was made by Ronal for Alpina in 1975. Alpina has also acknowledged the production of an Alpina wheel by FPS that has an engraved Alpina. (the wheel is still in current production by BBS - sold by W+N and a few others)
BBS Mahle
14" diameter / 7" width / ET22
<< Note - longer studs or longer lugs are required on e9 coupes due to thicker mounting surfaces of the BBS Mahle wheels >>
ARP 100-7715 - can be purchased from SummitRacing.com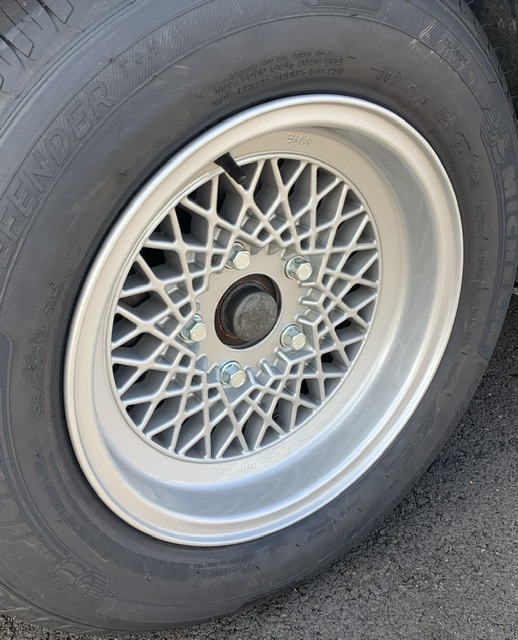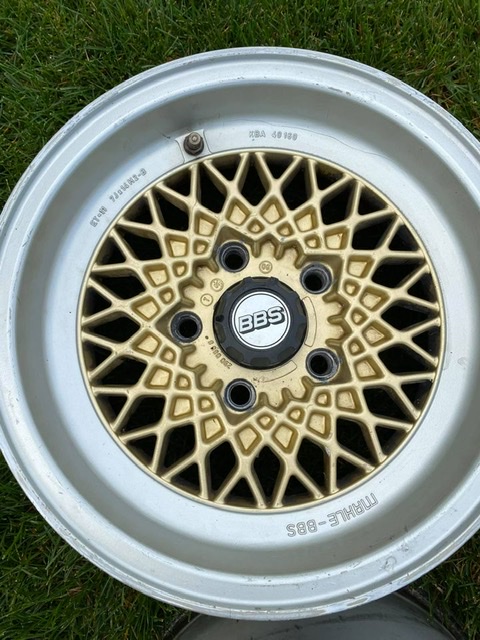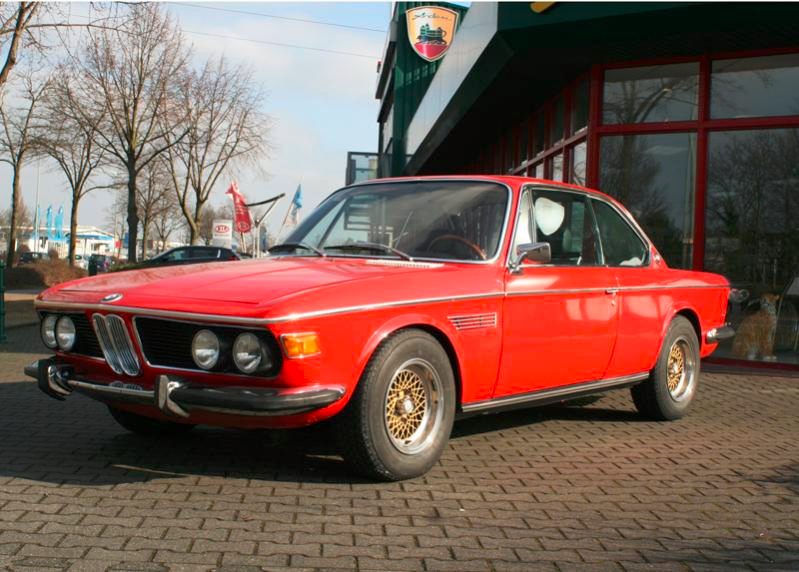 Other 14" Wheels

FPS 20 Spoke "Turbine"
e12/e23
14" diameter / 6" width / ET11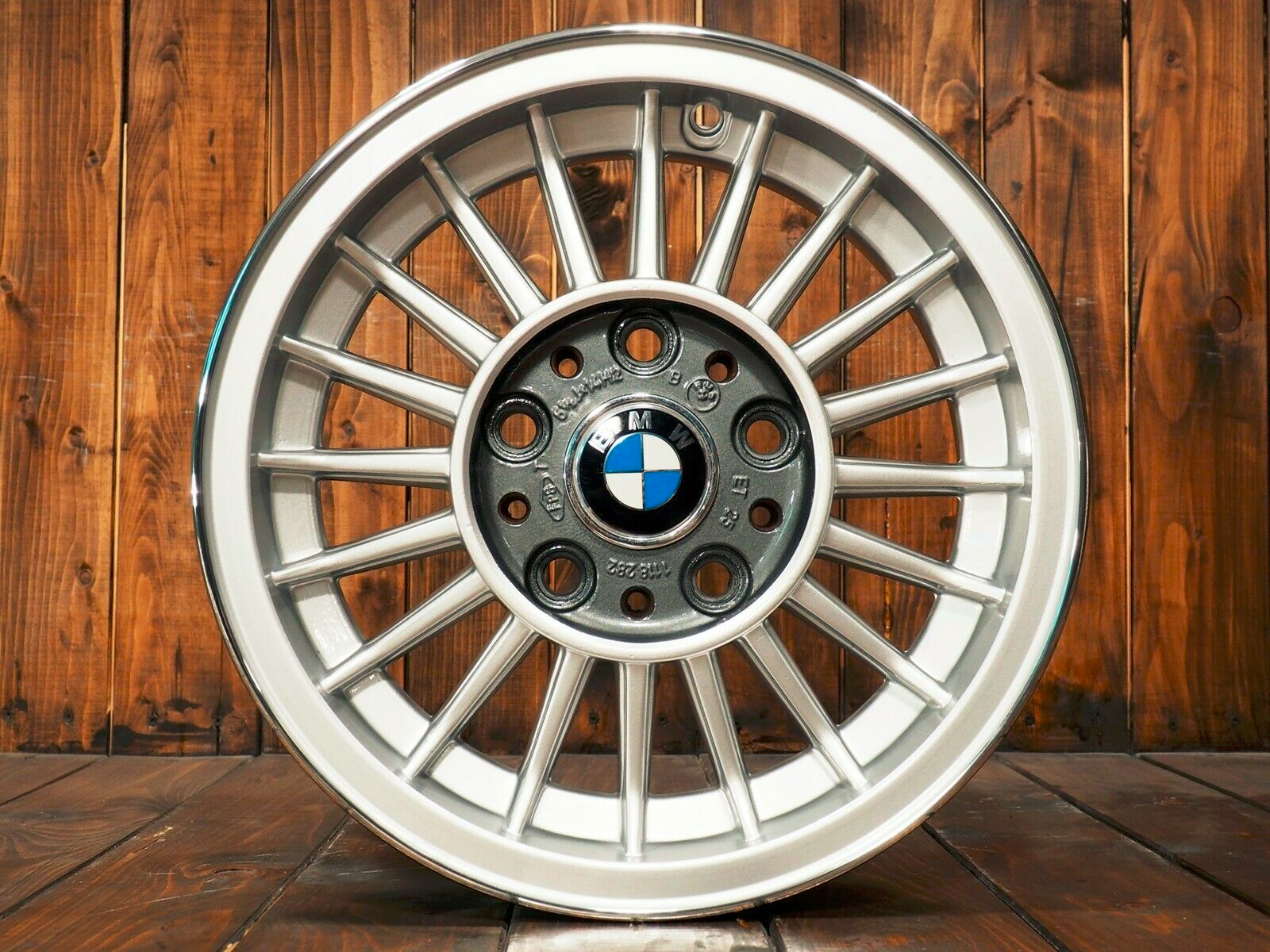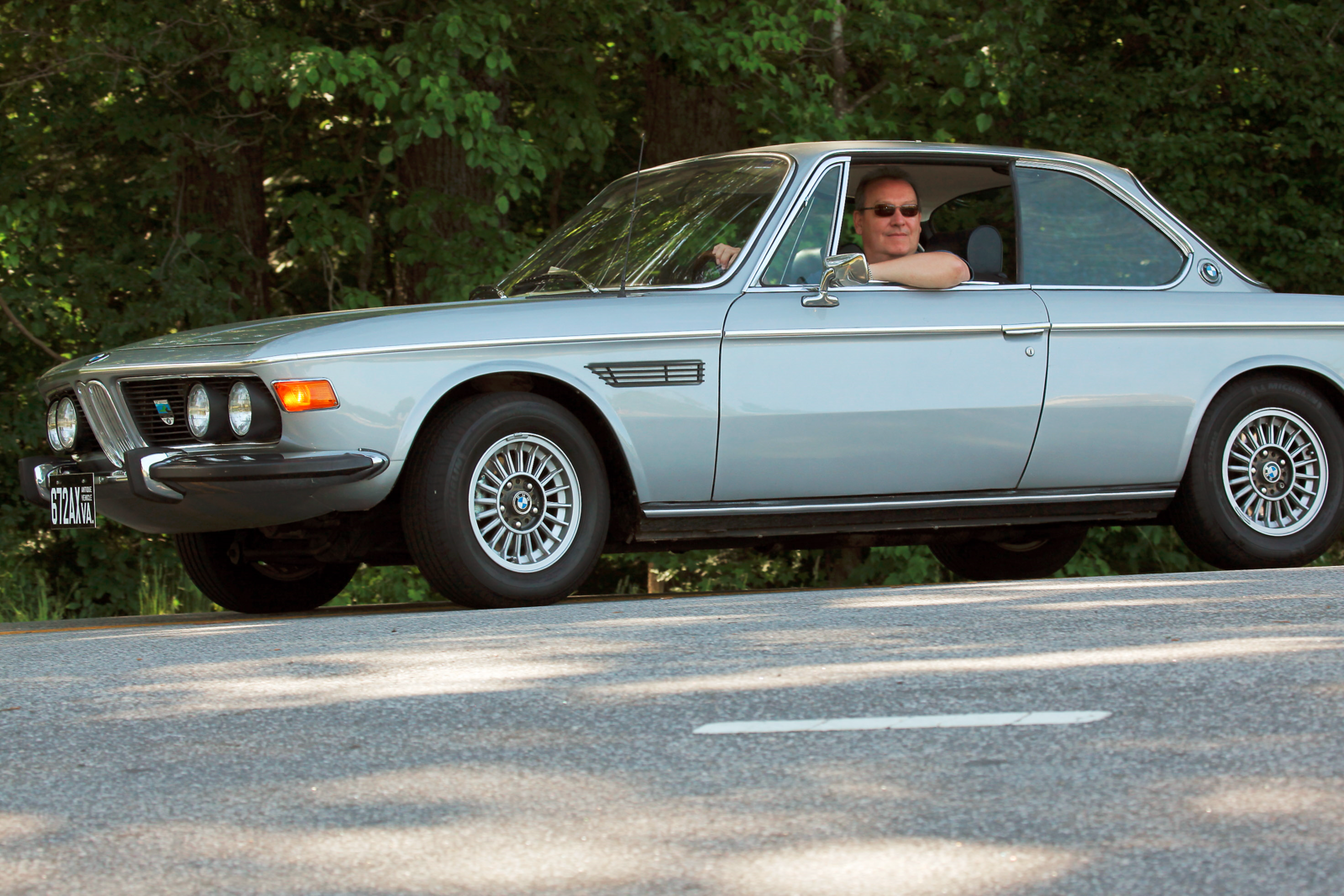 FPS "Alpina" style wheel (looks like a CSL Wheel)
e24
14" diameter / 7" width / ET11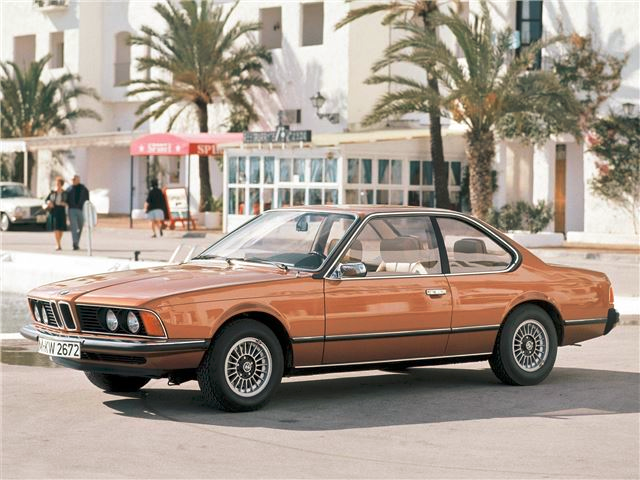 Vial "Alpina"
style wheel
14" diameter, 7" width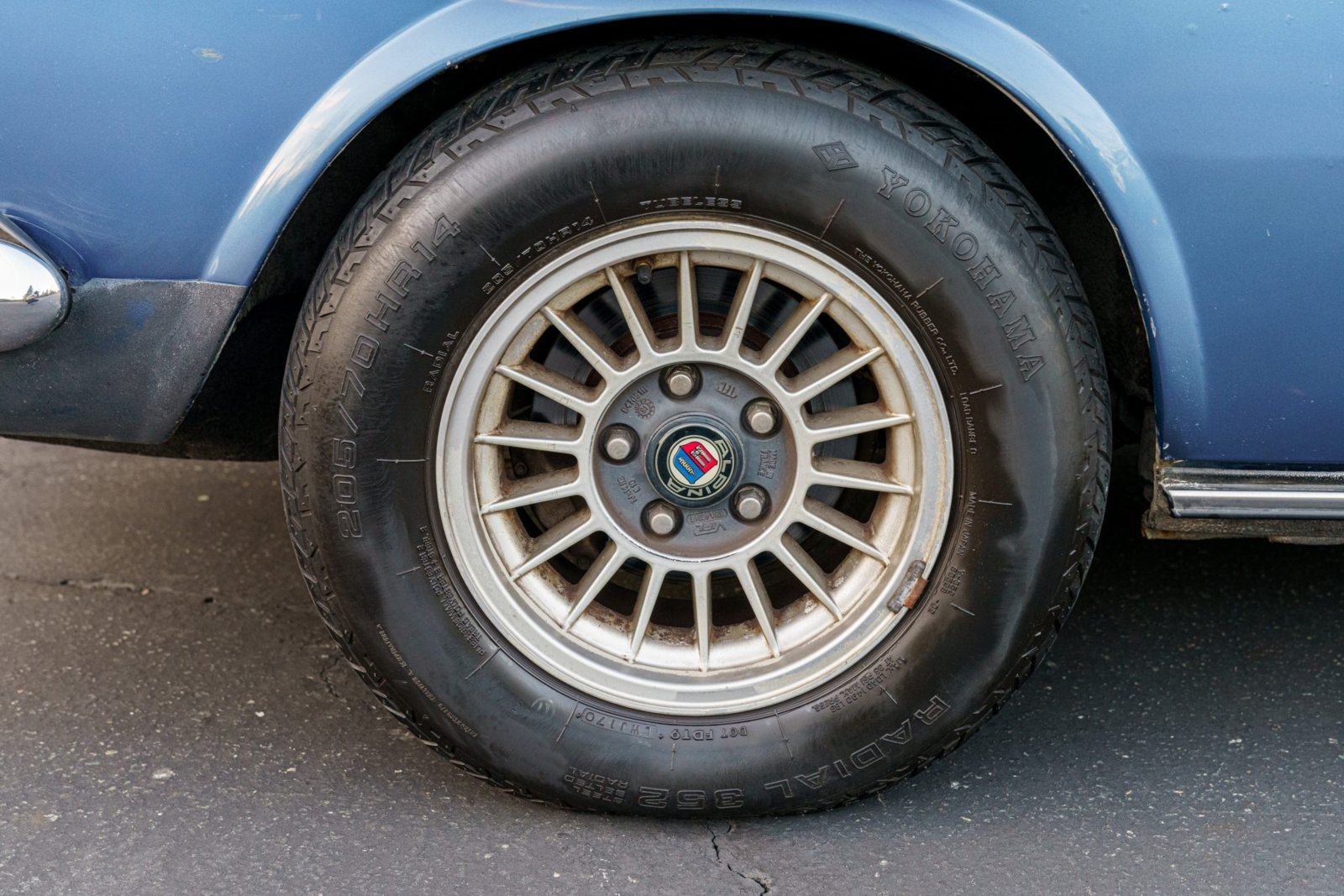 << NOTE - Refer to the FAQ Speedo section for information on what alternate tire sizes might do to how your speedo reads / depending on your tranny / diff gear - https://e9coupe.com/forum/threads/speedometer-and-differential-ratios.35162/ >>
Last edited by a moderator: