Well-Known Member
Site Donor $
Site Donor $$
Messages

3,259
Reaction score

1,566
Location
I finally decided to bite the bullet and get started on this. For context, my car still had the original BOGE shocks but the right side had evidently broken and a really poor fix had been made by the previous owner. Since my rear window is out, I really wanted to take advantage of that and do a proper repair on that bad side but also do the same to the other at the same time. First thing to do was to remove the shocks and cut off the top of the tower. I started with the left side because 1) easier cutting access since I am right handed and 2) I wanted to send the good one to the machinist so he can build a replacement cap to the exact dimensions.
The horror side: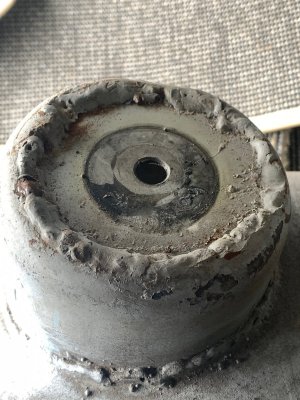 After examining the removed good cap, a few things became evident. And most of them have been alluded to somewhere along this very long thread.
The design of this shock mount is not necessarily bad. But it clearly is the manufacturing that is the problem. Specifically, they added that washer at the top (presumably to reinforce that section which is under a lot of stress) but they only secured it with 6 tiny spot welds to the top of the tower. Not only is this weak but it creates 6 point from which spider cracks start to develop as illustrated on
@autokunst
pictures.
So looking at this good one, it seems pretty clear that, unless yours have actually broken off (as in my case), one could easily add enormous strength by simply seam welding all along the outer AND the inner edge of that washer. I think that, even if some tiny spider webs have started, this is a relatively straightforward non destructive preventative measure that would ensure peace of mind for many years.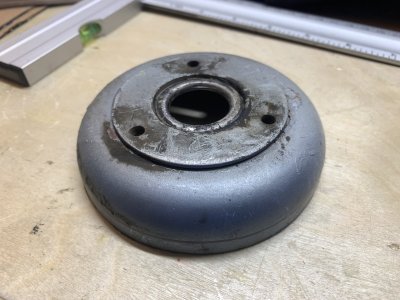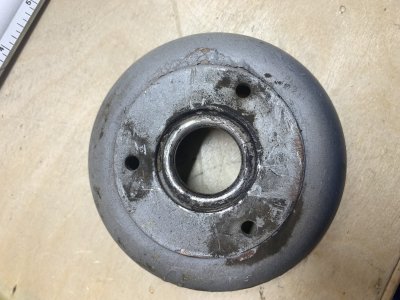 Last edited: