Well-Known Member
Site Donor $
Site Donor $$
Messages

2,372
Reaction score

683
Location
Next, my buddy Gavin came over to help. We started with the second new lower control arm. The first one was done almost a year ago now...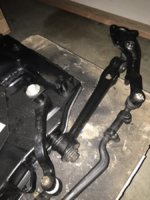 Then we moved on to installing new front subframe bushings. Those really threw us for a loop. The basic method is simple enough. Get something sturdy in the back through which you slide a threaded rod and pass that through the bushing in the front using the large washer to help you tighten a nut. With that, you try and squeeze that fat piece of rubber in that hole. After many attempts using what seemed like ungodly amounts of force, we had to send a call for help. OC/PGCoupe Mike came to the rescue and with a few tips from him and moral support from HBChris, we finally managed to persuade the damn things to go in.
No one single magic trick did the trick but here is what we did:
- Put the bushing in hot water for 20 minutes to soften it
- Lubricate it with appropriate chemical
- smooth out the opening of the subframe as much as possible. Sanding rough edges without damaging the paint.
- Use a bearing driver (or anything else) to hold a long bolt to in the back of the opening and then tighten the nut in front until the bulging front lip of the bushing starts going in.
- In our case, they would not go in straight and soon start slipping off center to one side or the other. We would squeeze them in until about half of the front lip was in the hole. Then we used a large flathead screwdriver to work the rest of it in, little by little. Start on the outer ends and push it in progressively towards the middle until the whole front lip is finally squeeze it. Both the tightening of the bolt and the pushing the lip with a screwdriver required a considerable amount of force. This operation should not be done within hearing distance of a church or a school.
- When the front lip is finally in, use a mallet to finish the job.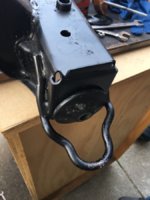 Last edited: